These two brands are, to me, the best kids summer shoes that I continue to buy year after year.
A few  years ago, I was turned to Keen and Salt-Water® Sandals by friends of mine. I noticed that their girls shoes looked comfortable and wearable, especially in the New York City summer heat. When I find a good thing, I stick with it. This is my third summer in a row that we have bought Keen and Salt-Water® Sandals for the girls (besides flip-flops). The shoes are just perfect for any summer lifestyle.
So why do we continue to buy them? We live in New York City and the girls walk everywhere; the girls go to camp, they get wet; they go into the sandbox, they get wet; they run around, they get wet; they go to the beach, they get wet. See a pattern?  Summers in New York City are brutal, so every chance we get, we go to a water park, beach or pool so we need shoes that are amphibian-like and can go from the subway to saltwater – and still look good in-between.
KEEN SANDALS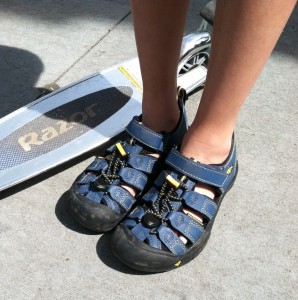 Why I Love Them:
1. I love the design: There's a big front toe bumper so little toes don't get bruised while running around.
2. I also love that they don't have to wear socks when wearing Keen sandals. That way their feet don't sweat all day.
3. The materials that used are quick drying, which means the girls can comfortably wear them in and out of water – at the pool, beach or water park.
4. Their product description made me love Keen sandals even more. The breathable fabric is "a treated Hydrophobic mesh lining with Aegis Microbe Shield which controls thebacteria and fungi that causes odors, stains and product deterioration" – and what's even better? The Aegis technology is free of environmentally harmful substances.
5. It's $50.00 – great price-value for a sturdy, well-made summer shoe.
6. The BEST reason I love Keen sandals? They are machine washable. Just air dry them out. How awesome is that?!? No stinky summer shoes – ever.
Why My Girls Love Them: 
1. Simply put: They are comfortable. Done.
SALT-WATER® SANDALS – The Original Sandal
Why I Love Them:
1. They are super comfortable, classic-looking sandals that are designed to be worn in and out of the water which means the leather is water-friendly and the brass buckles won't rust.
2. The girls can look dressed up, and yet still run around in them because the bottom is made out of vulcanized rubber.
3. They last. I didn't have to buy a new pair for O this year, because miraculously, she was able to fit into last year's pair. I also know of friends' older daughters have passed along their Salt-Water® Sandals to their younger sisters because they just last and last.
4. They're only $38.00.
Why My Girls Love Them: 
1. They are girly. Done.
2. They can still run around in them and get wet. Done.
Hint:
Buy them on Zappos.com through these links:
Keen Sandals
and
Salt-Water Sandals
– so you can buy a few sizes to find the perfect fit. Plus you get free shipping and free returns.
xo,
{I was not compensated in any way for this post. We truly love Keen's and Salt-water® Sandals!}