In a sun-drenched Penthouse loft space in Midtown Manhattan, groups of bloggers were treated to stylish and innovative ways to maximize small spaces with big ideas, thanks to the practical know-how of office supply mecca, Staples®, and the smart creative style of REAL SIMPLE.
White-washed Gary's Loft was transformed into three sample work stations that showcased various ways to incorporate functionality with a splash of fashion, using products all available at Staples.com.  The gallery below showcases the workspaces: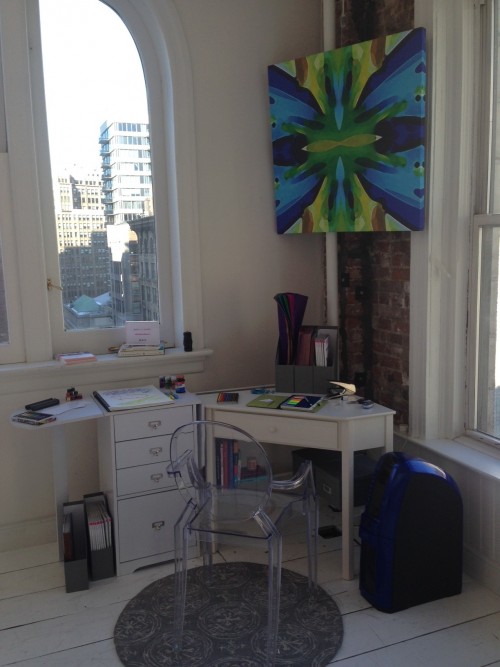 Making small spaces work hard with high-design, compact furnishings and clever storage, the pros at REAL SIMPLE and Staples® shared the following tips for ways to style even the smallest office spaces:
Think Vertical.  Tap into vertical space with shelving for books, storage boxes or bins.
Compact It.  Maximize space with compact office equipment.  At 8-inches wide, the Staples® Space-Saver Shredder fits under most desks or in tight spaces.  And it comes in cute limited edition colors to match your office décor!
Get Organized. Keep frequently used essentials in their place with trays, bins and sleek holders.
Personality Plus.  There's always room for personality – think wall art, colorful pillows and graphic or textured rugs for pops of playfulness.  'Cause all work and no play can sure make Jane a dull gal…
It was a fun-tabulous event (we even made our very own paper weights out of custom-picked shredded paper!) that showed us how we can keep our business and work spaces under control through smart essentials for multi-tasking that are teeming with individual style.