For the past several months, my husband and I have been making our own healthy smoothies in the morning. It's really quite easy, and I'm sure you have the ingredients in your refrigerator already. The new addition that I've added to my yogurt and fruit smoothies are chia seeds.
My base ingredients for my yogurt and fruit smoothie are Almond Milk, Stonyfield Greek Yogurt, and a mixture of frozen berries and fruit. I usually do a mixture of rasberries, strawberries, blueberries, blackberries and bananas, depending on what looks good at the store. I keep a container of frozen fruit in the freezer so I can make a smoothie in a snap.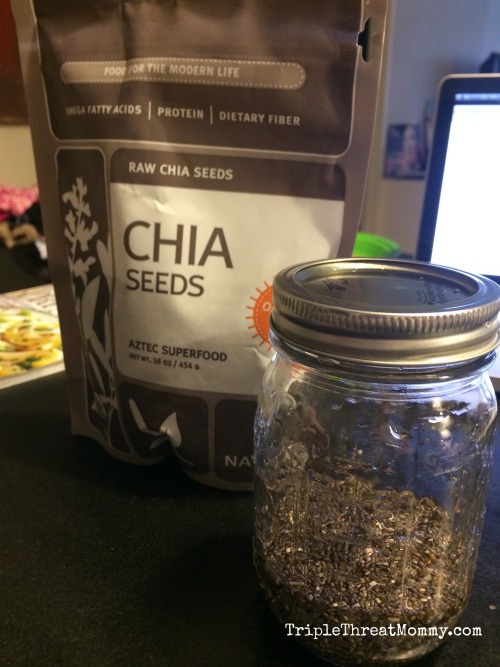 I've been eyeing this bag of chia seeds for a while. I didn't know how to use it, make it and eat it so I kept on passing it by by until I read this article in the New York Times that told me how to prep the chia seeds for various recipes, including smoothies!
Basically what you need to do is take 1 tablespoon of dried chia seeds and 4 tablespoons of water and soak them for several hours in a glass jar in the refrigerator. As they are soaking, the chia seeds become gelatinous and, according to the article, that "property aids digestion and contributes to their low glycemic index."
Just put all the ingredients into a blender and you have a healthy, protein packed breakfast or snack.
Healthy Yogurt and Fruit Smoothie with Chia Seeds
Author: Pam Kirkbride
Serves: 1
Ingredients
⅓ cup plain Greek Yogurt
⅓ cup unsweetened Vanilla Almond Milk (or any other substitute)
⅓ cup frozen berries
⅓ of a banana
1 tbsp Flax Seed oil
1 tbsp soaked chia seeds (or 1 tsp dry chia seeds)
Instructions
Combine all into a blender
Serve into a tall glass and serve