I am so bad at decorating! I have this 'Tis the Season Pinterest Board to help give me ideas because the interior decorating gene simply did not make it down this line of the family tree. So when the holidays come around, I get a little antsy because I just am not sure how turn the apartment into a festive and joyous place.
At the recent Momtrends Holiday Event, Marie Ackerman, Vice-President of Education at Teleflora — the online florist where fresh flowers are hand-delivered daily — talked to us about holiday decorating tips and the latest decorating trends. (And a $50 Giftcode Giveaway, below!)
Hot Decorating Trends
Holiday best sellers are those gifts that have personality. Teleflora has novelty items like snowmen, bears and candy canes that will bring a smile to any guest at your home.
Red is obviously the color for the season, but don't just think in terms of flowers. Use red in shiny reflective surfaces, glowing candles, vases and bowls.
Tradition with a Twist. Take iconic elements like Christmas ornaments and put them in a fun colored bowl or tall vase. Add new colors, neutrals or some shimmer to make things modern.
Three Places to Decorate That Will Make Your Home Festive:
1. The Front Door.  The welcome is warmer and the goodbye is sweeter!
2. The Mantel in the room where you spend the most time. We live in an apartment so we don't have a fireplace, but we use our book-case as our mantel where we hang our Christmas stockings.
3. The Dining Table. Where your friends and family will be gathering around to eat and drink!
How to Keep your Floral Arrangements Looking Fresh for the Holiday Season
Like any floral arrangement, you need to keep them well-hydrated, especially in over-heated rooms or rooms with a fireplace.
1. Water daily.
2. Make sure to take the floral arrangement and water it in your kitchen sink; not while it is sitting on your table.
3. The water should be 1/2″ from the top of the container; if the bouquet is set in a block of foam, make sure that the areas surrounding the foam are filled with water.
Personally, I am loving their Classic Holiday Wreath (traditional) and the Glitter and Gold Wreath (traditional with a twist).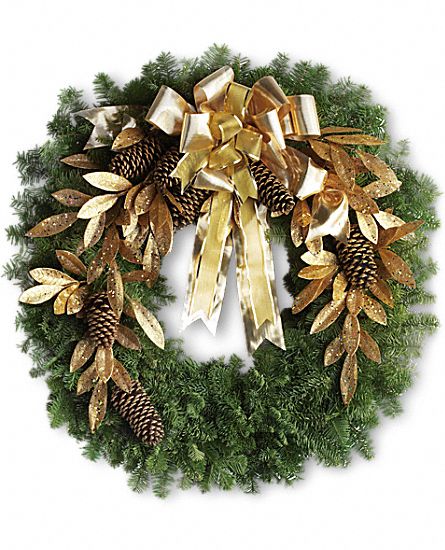 I had sent in questions to Teleflora's customer service (like how to keep a wreath fresh and which floral arrangement they can suggest a household with cats — or any pets— can safely have). Once they get back to me, I'll update this post.
Teleflora $50 Holiday Giveaway!
Now, it's your turn! One (1) winner will win a $50 Teleflora Giftcode! Simply go to Teleflora's website and tell me what you would like to spruce your home up with for the holiday season and write it in the comments below.
One (1) winner will win a $50 giftcode to be used on Teleflora. com!
GOOD LUCK and HAPPY HOLIDAYS!
This giveaway is open to readers 18 years old and older. The giveaway ends Sunday, December 1, 2013 at 11:59p.m. EST. One winner will be picked via Random.org and sent an email. They must respond within 24-hours in order to be the official winner, otherwise another winner will be chosen. Official Winner will receive a $50 Teleflora giftcode to be used on Teleflora.com. Note that the code will be active through December 31, 2013 and can be used on any bouquet up to $50. The code covers taxes and delivery fees.