Like I said in my Disney and American Girl doll post, our kids are usually late to big milestones. For both Disney and American Girl store visits, my girls were 11- and 7-years old. Middle-aged for youngsters who go every year since they were born. Well, sleepaway camp is something that the girls (specifically my oldest) is going to be experiencing for the first time this summer, when most of her friends had been going for the past three to four years. I learned a lot in four crazy days of packing.
This post contains affiliate links.
I'm not going to tell you what  to pack (your camp will tell you that), but I'll tell you how to pack for sleepaway camp.
For four days, I went through the CRAZINESS of shopping, laundering and packing up the girls for their first ever sleepaway camp adventure. It was like the blind-leading-the-blind because neither my husband nor I had gone to sleepaway. And since my first Instagram post about it (above), I received an amazing amount of support both online and offline. Without you all I am not sure the bags would have made it up to camp orientation!
Six Things to Buy Ahead of Time to Pack for Sleepaway Camp:
1. Purchase large soft camp trunk bags. We got this one from Amazon.com and it fit everything. The key is that it is soft so that the camp can store it when it gets unpacked. Large so that it can fit everything on your list. I also like that its rectangular for the next reason: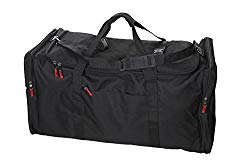 2. Rubbermaid Underbed Storage. This is perfect because you can put it into your trunk bag, fill it up with your kids clothes so it doesn't get lost in all of the "stuff"; it just helps keep things organized. It can also be used during camp under their bed to keep things neat and tidy. Once all clothing has been purchased, pack this first. This will provide the stability for your soft trunk. It also provides a good base for everything else.
3. Plastic Shoe Boxes. I used these boxes to store things that could potentially leak like shampoo, body soap, sunscreen and bug spray. I kept things organized so it made sense. Bathroom stuff went into one, while sunscreen and bug spray went into another. I had a third box that housed "small miscellaneous items" like a flashlight, batteries, pens and pencils and stationary. Stuff that was too small and would get lost. I also told them that they can stack the three and make them into a small end-table so that they can put their fan on top. I packed these next to the underbed storage box.
4. Sharpie Rub-a Dub Laundry Markers. I used this for everything that were clothes, sheets, or towels. Basically if it was a fabric, I used this. (I did have sew-on labels, but had the uniform company put them on for me for the tees and sweatshirts that I bought through them. Yes, it was an added cost but worth it. I just did not have the time to sew on every label on each piece of clothing) Everything else, I used this Sharpie: tees, sweatshirts, socks, sheets, towels, comforter, etc. And get your kids to help you. They can Sharpie their initials on their socks and undies!
5. Sharpie Metallic Permanent Markers. These came in handy for items that were dark color so the black Sharpie marker wouldn't show: the battery-operated fan, sports equipment, sneakers, the soft trunk bag.
6. Sharpie Metallic Permanent Markers. For everything else. You use these. End of story.
How to Pack for Sleepaway Camp:
1. Place all your Sharpies, scissors, pens and lists in a centralized place. I ended up putting everything on bright blue plastic plate so I could easily and quickly find it.
2. Don't put anything into the bag until you have everything on your list. Just know that your camp stuff will take over your home, as it did mine. But if you start packing things before everything is bought, laundered, labeled and checked off, I promise that you will have to unpack so that you can double-check yourself, then you'll have to repack.
3. Pack the underbed plastic boxes and plastic shoe boxes first. 
4. Once the plastic boxes are put as the first layer, then I put a layer of the bedding materials on top (blankets, sheets and pillow cases).
5. Then on top of that came the strange shaped things like sports equipment, books, games, stuffed animals, battery operated fan, bag of shoes. I tried to layer them as flat as I can.
6. Next came their pillows (in the plastic pillow bags that I bought them in). Tip: I kept the plastic bags that sheets and pillow cases come in. They were great to put little things like favorite stuffed animals, stationary, anything that is too tiny to just to throw into the bag and get lost.
7. The last thing I pack are the towels. It just makes a good flat surface to help close up the overflowing trunk.
After four days of shopping, shlepping and labeling, we were done and able to bring up the trunk to their new campers orientation the following day. And of course, at the camp, our 6th grader met her future bunkmates and made a list of things we had to bring (nailpolish, neon clothing, a tutu, blue & white gear…) AHHHHHH!!!
Do you have any tips for packing up for sleepaway camp? I would love to hear about it!!