My girls are a bit older – they are 9 and 4.5 years old and I am always jealous of all the cool, new brands that todays parents have access to. I just thought that I could never use those brands anymore simply because my girls have aged out.
Until now.
Stokke, is a family owned Norwegian company (so you know that the designs are cool) that is known for its unique, functional and long-lasting products. Um, what more could you ask for?
I always knew about the Stokke brand because of the strollers that the downtown moms push around, but I didn't know that my girls could actually use the Stokke brand until a recent Momtrends event where they highlighted the Stokke Tripp Trapp.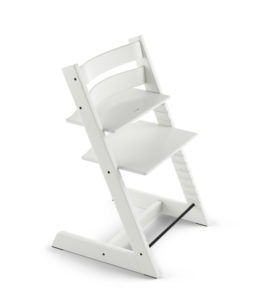 Whether your child is 7 months, 7 years or 17 years old, you should get to know the Stokke Tripp Trapp®. I didn't know this, but the Tripp Trapp® could be used when your child is a toddler all the way to when they are able to enjoy hot toddy's. For real. It literally is the chair that grows with your child®. It adjusts so that your child's back and feet are always supported . What I love about it is that it doesn't have a tray; instead you push the Tripp Trapp to the table so that your child is now included at the family dinner table – instead of to the side of the table as they would be in a regular high chair. It is made of cultivated beech wood so it durable, can last a long time, and is environmentally friendly.
Our girls love the Stokke Tripp Trapp so much, that when we first got it, they fought over who is going to sit in it. The arguments became a daily ritual that we had to start a "Sit in the Stokke Tripp Trapp Schedule":  O, our 9-year-old, sits in it during weekend meals; and S, our 4.5 years old, sits in it during weekday meals.
This arrangement may work for now, but we'll see which one of them will be taking it when they go off to college.
For more information, please visit the Stokke Tripp Trapp website. You can also buy your Tripp Trapp here.