Skiing (or boarding) is a family activity that gets you to enjoy this unrelenting winter weather. In order to have the most enjoyable ski or boarding vacation, you must have the right gear to keep you warm and dry so you can concentrate on your skiing rather than your cold and wet feet.
Thank you to GetOutfitted for sponsoring this post!
TTM Discount code below!
If you or your kids are new skiers or boarders, or if you haven't been on a mountain in years, you probably don't have the latest and greatest gear to get you up on the mountain. But, who wants to spend several hundred dollars on new clothes and gear — especially if you don't know if you or your kids will enjoy the mountain sport.
That's where Get Outfitted comes in:  you can rent ski clothes and accessories with GetOutfitted — the full package at a fraction of the cost of buying the clothes and gear separately. Plus, GetOutfitted ships your ski clothes and gear directly to your resort (for FREE) so you don't have to pack it with you. Returning is a breeze with a pre-paid self-enclosed envelope. Just drop it off with your hotel's front desk or the nearest United States Postal Office.
How to Order on Get Outfitted:
Ordering is a breeze. The easiest way is to pick a package so you get all clothes and gear that you need (minus base layers, fleece layer, ski socks, actual skis or boards  — which you could also rent or buy via Get Outfitted.)
Jacket
Midlayer (premium only)
Goggles
Gloves
Pants
The difference between a Premium and a Standard Package is basically technicality of the gear. If you're new to skiing and cruising down the bunny hill, you're probably not going to need a jacket that has double layer Gore-tex and Recco Avalanche Protection integrated into your clothes. The Premium package does come with a mid-layer or a 3-in-1 jacket so do keep in mind that if you're headed to a mountain where spring skiing conditions exist, you may want to have the option of layering down to your mid-layer.
You pick your package, enter in how many days you'll need to rent, enter the sizes, and then complete your order. TIP: Measure yourself and your kids to help you with the sizing. It really helped me when picking out sizes.
Once you place your order, you receive a "Get Outfitted Styling Service" email which basically walks you through a survey that asks about your likes, dislikes, color choices. You can even ask for a stylist to call you if you have specific needs in mind. Based off of your choices, GetOutfitted puts together a complete outfit and sends it directly to you!
Review of GetOutfitted Packages:
Get Outfitted provided a Premium Women's package for me and a Junior Girls Complete Outfit for our 6th grader for our Squaw Valley / Lake Tahoe Ski Trip.  Our package arrived safely and well-before our 1st day of skiing at the condo we were staying at. Our complete outfits came individually wrapped . We also got surprised with a bag of goodies like sample sizes of healthy snacks, stickers for our helmets, and lip balm to protect our lips from the sun and wind.
Beautiful views of Lake Tahoe at Mount Rose in our technical and colorful gear and apparel that we rented from GetOutfitted.
GetOutfitted definitely stepped up my ski-outfit game. I normally wear all black with a little bit of color, but they chose for me the Patagonia 3-in-1 SnowBelle jacket, Patagonia PowderBowl pants, Optic Nerve goggles and Burton Gore-Tex gloves.  Our 6th grader got the Obermeyer Blake Jacket, Smith Goggles, and Obermeyer Brooke pants, and Outdoor Research Adrenalin mittens.
It was spring skiing conditions in Squaw Valley, so I layered-down and wore my Patagonia mid-layer with Optic Nerve goggles (and my own helmet, of course!). I really need to get these goggles!!!
I LOVED my outfit. First of all, because of the spring skiing conditions that we had at Squaw Valley, my jacket layered down and I was able to wear the mid-layer along with my own base layer. Because I'm petite, I was worried about my pants not fitting me well. The pants fit perfectly, especially because it had an adjustable waistband. Also because of the warm weather, the pants and jacket had mesh-lined vents in the perfect spots to help me cool off. My Patagonia pants even had Recco technology — even though I wasn't going to put myself in any situation where I may need a search signal — I felt good having it. My own decades-old jacket and pants do not have any of the above!
I cannot tell you how much our 6th grader LOVED LOVED LOVED her outfit. Sizing was a big concern for me because she is tall but skinny. I made my sizing choices based on her exact measurements, and when I filled out the styling survey, I gave her measurements for good measure (pun intended). As you can see from above, her Get Outfitted ski outfit fit her to a tee.
She loved the fit and feel of the Obermeyer jacket. She normally doesn't wear pink but she wore this jacket proudly. The only complaint is that the girls package does not come with a mid-layer option so she had to wear her jacket with her baselayer. Her pants fit her so well and she loved the silhouette. The goggles were also so cool to her – and I loved it because they gave undistorted vision, unlike her own goggles.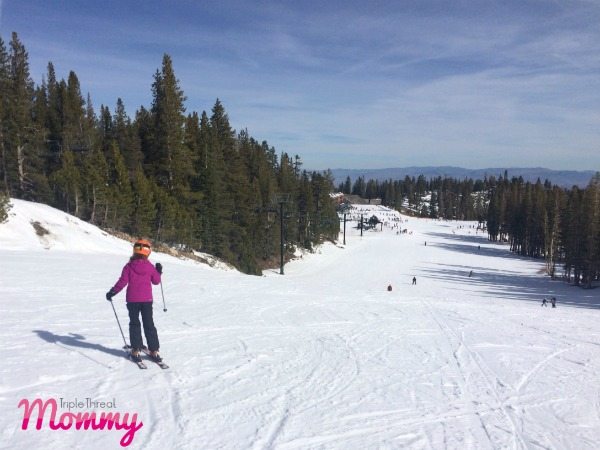 We were extremely sad to part with our Get Outfitted ski outfits. But, they make it super-easy. We just packed up the clothes and gear in the pre-paid envelope and brought it to the local post office. Done and DONE! No extra packing for our trip home. Also, Get Outfitted has added snowshoe packages that include a pair of MSR snowshoes and trekking poles, all for $15 per day!
Heading out for some skiing (or snowshoeing)? Now, you get to experience Get Oufitted.
Get Outfitted Discount Code for Triple Threat Mommy Readers!
Receive 15% OFF your total order using code TTM15
Good through September 1, 2016
GetOutfitted rents ski clothes and skis, as well as backpacking, camping, kayaking equipment, all delivered directly to your hotel. Born at the foot of Pikes Peak in Colorado, GetOutfitted is a company designed to give its customers a world-class outdoor experience. They source top brands and fresh looks from the best manufacturers in the industry to ensure you have an amazing rental experience at a great price.For more information and to check out a package, visit GetOutfitted.com.