Even though a lot of families are either going away to a warm climate for spring break, or wishing for warm weather to hit the east coast, we are actually crossing our fingers for some cold and snow next week as we head over for some spring skiing and family and kids activities in Aspen, Colorado. Below are 6 of the family and kids activities that we'll be hitting up in Aspen, Colorado. Make sure to follow our adventures by following the hashtag #TTMinAspen.
Aspen Snowmass has been highly regarded as a family ski destination and we are thrilled to be skiing in Colorado for the first time. We've never gone spring skiing before and we're excited to try it for this year's spring break. Thanks to some major snowfall, Aspen Mountain has extended their dates and are hosting skiing and riding on weekends April 26-27 and May 3-4!
I'm packing all of our winter skiing essentials, plus adding a lot of sunscreen considering Colorado gets over 300 days of sunshine a year. As of today, Aspen Snowmass has 97 trails open and 18 lifts operating, with 100% of beginner, intermediate and advanced terrain open. From the webcams, it is looking like we'll be having good spring skiing ahead of us and am hoping to just wear our ski pants and a fleece!
The girls will be checking out the Aspen Snowmass ski school, I'll be taking a lesson or two — and trying snowboarding (eeps!) for the first time. Better late than never. My 5th grader, who has become a skiing purist is appalled, but I'm pretty excited to try it out. Hoping to come back with some snow goggle tan lines!
In October 2010, a bulldozer operator working in Snowmass Village found the tusk of a young female mammoth. Over the next 10 months, the Denver Museum of Nature & Science conducted its largest-ever fossil excavation, finding a ton of well-preserved Ice Age fossils. They've found 5,000 bones of 41 kinds of Ice Age animals, including mammoths, mastodons, ground sloths, camels, deer, horse, and giant bison. Thanks to the Denver Museum of Nature & Science, some fossils are now in the preparatory process at the Ice Age Discovery Center on the Snowmass Village Mall and a scientist will be able to show and explain how the fossil preservation process works. We will be sure to visit after a day on the mountain! For more information on the Snowmass Ice Age Discovery, call 970.922.2277. The Snowmass Ice Age Discovery Center is open this winter season until April 20, 2014. Admission is FREE and the hours are 10:00am – 5:00pm.
3. Snowmass Recreation Center
If we have any extra energy after a day of skiing, we'll be heading over to the Snowmass and Aspen Creation Centers for some off-mountain activities. The Snowmass Rec Center has over 18,000-square-feet of family activities in this new facility including four outdoor saltwater pools, three of which are open year-round. I think the girls will get a kick out of swimming when it is a bit cold out! Besides the pool, the center has a state-of-the-art cardio and weight room, a brand new indoor gymnasium, aerobics classes, climbing & rock climbing walls, and much more.
This photo of Aspen Recreation Center is courtesy of TripAdvisor
Through a great friend, we are staying at the Ritz-Carlton in Aspen Highland, and through them we also have a pass to the Aspen Recreation Center which has a rock climbing  wall, mom-and-me ice skating classes, guitar lessons, art classes, and swim lessons. And, if the hubby and I are feeling really energetic, we can go work out in the fitness center which has a weight room and a cardio-room that has elliptical trainers, treadmills, several types of stationary bikes, stair climbers, and a rowing machine, each with its own television so we can watch our favorite shows while we work out. OR, we can just go hangout in the lazy river or slide down the 2-story water slide with our girls. Hmmmm. Wonder which one we'll be doing?
5. Slopeside Lanes and Bowling Boutique
After a day on the mountain, we may want to do something indoors, yet fun and family friendly. Enter Slopeside Lanes at the end of the Snowmass Village Mall. It features eight full-sized lanes with bumpers for the girls, a lounge area with full bar, locally brewed beers, wood-fired oven (from Italy!) pizzas, upscale bar food featuring local ingredients.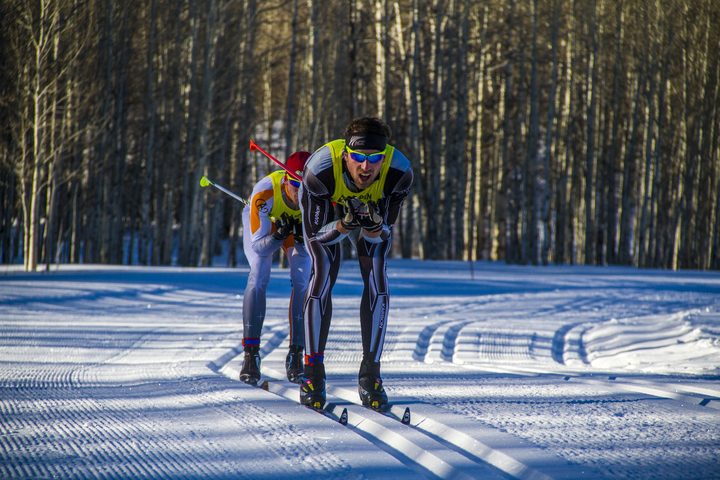 My husband is not a downhill skier. On our Utah Family Ski Trip , he tried cross-country skiing for the first time and had a great time doing it, so he'll be doing some more cross-country in Aspen at The Snowmass Cross-Country Ski Center. The center offers a full range of ski school programs, rentals and even sled rentals and a sledding hill for families! Snacks and beverages are available at the Center, which overlooks scenic Mt. Daly. I'm hoping that kids are also able to do some cross-country skiing so we can try this sport out and ski as a complete family!
Have you been to Aspen and Snowmass? If you have any other family friendly activities you think we should hit, please let me know in the comments section below!