Thank you to SoCozy for sponsoring this post. All opinions expressed are mine. 
Last year, our then-5th grader decided she wanted to go to sleepaway camp. We did a ton of research, received a lot of direct mail from all these camps and landed on one that we felt was perfect for the girls. I thought that was the hard part of the process. What I didn't realize was all the STUFF we had to purchase! From sweatshirts, to soccer shin guards to shampoos, we had to buy it all. It's like a rehearsal for college! Luckily, the one thing I didn't have to research was the haircare and shampoos. SoCozy, a line of salon-formula haircare products for kids ages two through 12, (Pssst: just because it's a salon-formula, doesn't mean it's hard to find. You can actually find it easily on Target.com and SoCozy.com.)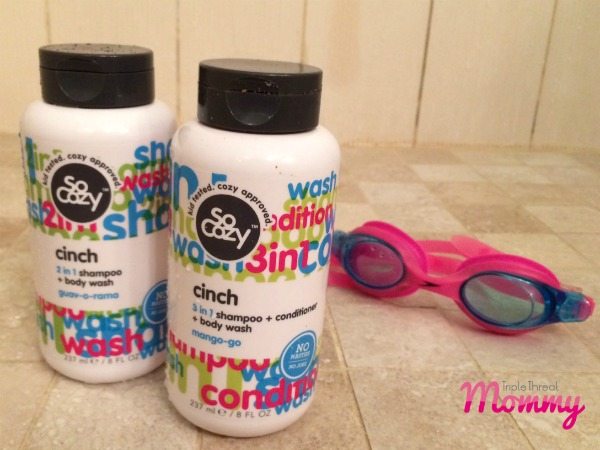 We've been testing out the 3 in 1 shampoo + conditioner + bodywash during swim class, where she takes a shower all by herself in the women's locker room. First of all 3 in 1 ?!?! How amazing is that? I don't have to carry multiple bottles and she didn't get confused as to which bottle is the shampoo, conditioner or body wash. And it works: she gets clean, and her hair is easy to brush. I personally love the flip-top because caps don't get lost and it's easy to open and close — even for the youngest of kids. Plus, the mango-go scent is to-die-for.
For summer camp, a clear must-pack is lice shampoo and spray. SoCozy has boo! lice prevention shampoo and spray. It contains tea tree oil and rosemary extract which is what keeps the critters away. The smell is really nice and not overpowering, and the spray bottle is very easy to use. Both the 3 in 1 shampoo + conditioner + bodywash and the boo! lice prevention shampoo and spray are definitely getting packed for sleepaway camp.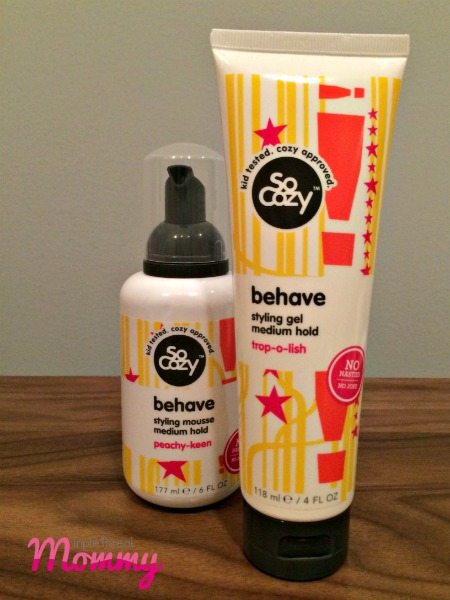 My girls don't use a ton of gel or mousse in their hair, but since it's dance recital time, we will be using the behaving styling mousse and gel (this weekend!) to keep their hair in-place while their doing their jumps and shimmies.  What I love is that it doesn't have all the harsh chemicals that adult products have, especially the nasty smell. The peachy-keen scent and the trop-o-lish smell yummy and not overbearing.
The result? My girls' hair is super-easy to brush and smells good. I've truly noticed a difference in our 2nd grader's hair in that it's shiny, soft and manageable. It really makes a difference — and I trust the product, which to me, is priceless.
Want 3 more reasons why I'm packing SoCozy hair products for my kids' sleepaway camp? Here you go:
So Safe – They have no nasties. They are safe and effective – and completely non-toxic – it's great hair minus the harsh chemicals! They're made without parabens, sulfates, phthalates, synthetic color, proplylene glycol, gluten, wheat or nuts!
So Easy – Their products are simple and multi-functional that make bathtime easy for both parents and child!
So Cool – SoCozy encourages and supports individuality. All kids, any hair type – they make it their mission to build confidence and inspire originality. SoCozy = So Cool
Your Turn to Try SoCozy Hair Products with a $3 OFF any SoCozy item Coupon!

Coming up: Sleepaway camp must-haves — which includes SoCozy products….
For more information and to Meet Cozy Freidman, founder of SoCozy, visit their website.  You can purchase SoCozy products at Target.com
I received products to review and compensation from SoCozy for this post. All opinions are my own.