We just got back from our second trip from Beaches Turks and Caicos . We went last year and loved it so much that while we were there we booked this year's trip. And guess what? We loved it so much that we booked our 2016 trip! We also go to local beaches a lot so we are pretty well-versed on what makes a happy family beach vacation. It doesn't take much, but as parents, you do have to stay on your toes and make sure you are well-prepared. These are the tips that my husband and I compiled for a happy family beach vacation:
1. Bring more sun screen than you think you'll need. In fact, bring the zinc oxide stuff because if you are heading anywhere near the equator, you'll burn. On that note, bring sunburn care. Because no doubt, someone will burn.
2. Eat every two hours, and stay hydrated. It takes a lot of planning and watching the clock, when everyone is having fun at the pool, beach or other water activities. But kids are kids, and they need to eat — especially when they are running, swimming and sweating on the beach. If you're in an all-inclusive resort like Beaches Turks and Caicos, it's easy to grab a snack or a drink. If you aren't, make sure you pack up a cooler with healthy snacks like frozen grapes, watermelon, granola bars and veggie chips. Sandwiches with some protein will help keep energy up and always have water on hand. (Keep bottled water frozen and they can double as coolers.)
3. Take breaks every 2-3 hours. Go back to your room. Our first full day at Beaches, we pushed the kids to stay out in the sun the whole day and that resulted in melt downs. Luckily, we were smart and realized what the issue was, so we decided to implement "beach breaks". We didn't get any whining because at Beaches Turks and Caicos our rooms were equipped with Xbox games so taking an hour from the beach was not an issue.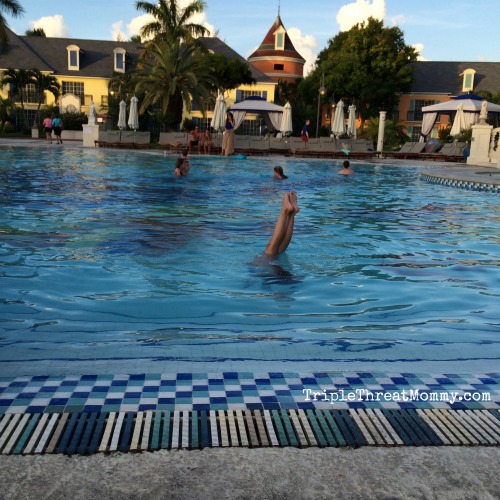 4. Let the kids plan (most of) the day.
Our days basically went like this:  breakfast, water activity, break, lunch, water activity, break, water activity, dinner, water activity, bed. They decided which water activity (pool/beach/waterslide) we would do, while my husband and I decided when we should eat, take breaks and go to sleep. They get to choose the fun stuff, we get to choose the serious stuff. That way they feel like they are in control.
5. Go on an adventure. Don't just stay in your resort. Go out and do some sight-seeing. At Turks and Caicos, we decided to do a family snorkeling trip and it was a game-changer, especially with our 11 year old. It was one of those experiences that I knew she nor I would NEVER forget — and something that we would do for the rest of our lives, together.
6. Go to sleep at a reasonable hour.
 The sun gets to you, and you don't realize it until it's too late.  Lights were OUT by 9:30pm every night, if not earlier. After dinner and night-time swimming, we headed home for showers and some tutoring apps on the iPad (yup, learning never takes a holiday at our family, and the iPad keeps it fun).