Living in downtown New York City means having access to a ton of family-friendly activities, parks and restaurants – all within walking distance. TriBeCa, the Financial District and Battery Park City are neighborhoods where you can basically spend a whole day with your kids playing, eating, drinking, creating and shopping.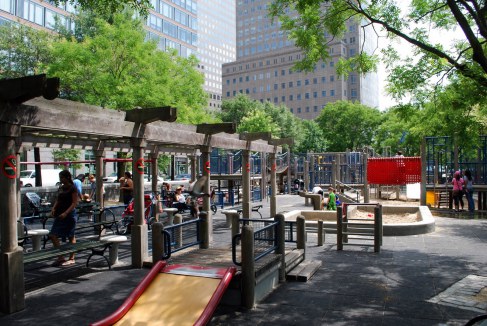 As a family, we enjoy going to Rockefeller Playground in Battery Park City, especially when the weather is nice. There's a ton of activities for all ages with playgrounds, swing sets, a basketball court. When the weather gets warmer, the Battery Park City Conservancy puts out several Nok Hockey sets, a mini-library, and a bunch of games, balls, Frisbees and toys to be enjoyed on the great lawn. There are also wide paths perfect for strolling, scooting, bike riding, and roller blading that go from the bottom of Manhattan Island to as far north as the George Washington Bridge!
Our girls love Rockefeller Playground because there are many activities that are perfect for their age (9 ½ and 5-years old). The playground is suitable for kids of all ages and there are swing sets for the toddler set and as well as the older kids set.
We also love that once the girl's bellies start to rumble for something to eat, we are within a very short walk to many kid-friendly restaurants. Our favorite stop? Blue Smoke on Vesey Street.  We love their kid's menu that includes drinks, one entrée, one side and dessert  for $9.50. They also give the girls Wiki Stix to play with and DIY pig-shaped butter cookie dough that they can individualize with sprinkles. After the girls put the finishing touches on their pig cookies, the waiters take them back to the kitchen to be baked! By the time the meal's over, voila, the girl's handmade desserts arrive. (BTW, Blue Smoke offers some of the best BBQ in the city for both kids and adults!)
Another amazing fact, for every kid's meal they serve, Blue Smoke donates $1.00 to the Poets House in Battery Park City. The Poets House is a national poet library that invites poets and the public to step into the living tradition of poetry. The Children's Room at Poets House invites children to read, explore and write their own poetry by hand or with manual typewriters (a big hit!).
So, come down to Lower Manhattan to explore all of the family-friendly spots. I know that you'll enjoy being downtown as much as we do! And when you come down, you should refer to the Mommy Nearest mobile app as your personal concierge. See you soon!!