On the weekends, I try to make a good old-fashioned breakfast, the kind that my mom used to make with eggs, french toast, bacon, toast – everything. I like having the weekend mornings nice, slow, relaxed and family focused and it's always better when there's good food involved.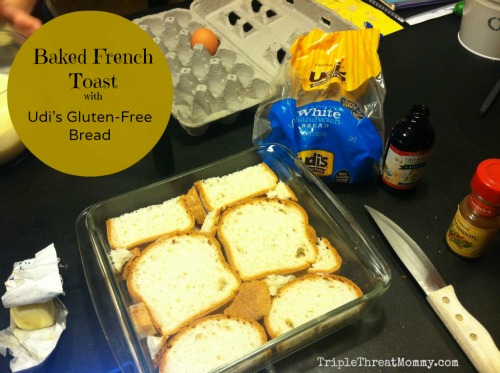 Since our older daughter is on a low-gluten diet, I jiggered Paula Deen's Baked French Toast with Maple Syrup to include Udi's Gluten-Free White Sandwich Bread. So below is Paula Deen's recipe, with my editorial comments and tips in *asterisks and italics.
Ingredients
1 loaf French bread (13 to 16 ounces)
*We used Udi's Gluten-Free White Sandwich Bread, but you can use any of their bread products. 
8 large eggs
2 cups half-and-half
*We substituted 3 cups of Lactaid for the half-and-half and regular milk
1 cup milk
2 tablespoons granulated sugar
1 teaspoon vanilla extract
1/4 teaspoon ground cinnamon
1/4 teaspoon ground nutmeg
Dash salt
Praline Topping, recipe follows 
*We didn't use the Praline Topping, but used fresh berries instead.
Maple syrup
Directions
Slice French bread into 20 slices, 1-inch each. (Use any extra bread for garlic toast or bread crumbs). Arrange slices in a generously buttered 9 by 13-inch flat baking dish in 2 rows, overlapping the slices. In a large bowl, combine the eggs, half-and-half, milk, sugar, vanilla, cinnamon, nutmeg and salt and beat with a rotary beater or whisk until blended but not too bubbly. Pour mixture over the bread slices, making sure all are covered evenly with the milk-egg mixture. Spoon some of the mixture in between the slices. Cover with foil and refrigerate overnight. *I put plastic wrap over the dish, making sure that it actually clings to the bread and to the inside sides of the pan so that no moisture gets lost overnight. Then I put foil on top. 
The next day, preheat oven to 350 degrees F.
Spread Praline Topping evenly over the bread and bake for 40 minutes, until puffed and lightly golden. Serve with maple syrup.
Praline Topping:
1/2 pound (2 sticks) butter
1 cup packed light brown sugar
1 cup chopped pecans
2 tablespoons light corn syrup
1/2 teaspoon ground cinnamon
1/2 teaspoon ground nutmeg
Combine all ingredients in a medium bowl and blend well. Makes enough for Baked French Toast Casserole.
Read more at: http://www.foodnetwork.com/recipes/paula-deen/baked-french-toast-casserole-with-maple-syrup-recipe2/index.html?oc=linkback
Unfortunately, I forgot to take a good after-photo because we just ate it, but we promise you that the gluten-free bread is delicious in this recipe. I've made it several times for my low-gluten picky eater!
Please let me know of any other good, tasty and easy gluten-free recipes. I need them!