We like to celebrate our Hallmark holidays casual, but we also want to look nice and crisp. For this Father's Day, Chaps was gracious enough to give The Hubby a new Father's Day outfit to celebrate being a great Dad.
Michael kept it simple and classic by choosing Chaps' Classic Fit Gingham-Checked Button Down Shirt in Blue and the Flat-Front Shorts in Blue Fish.  These styles are easy pieces that can go with anything in his closet. That's what I love about Chaps: it's value-packed, easy, wearable classic styles that are timeless.
…so are rides on Daddy's shoulders!
For under $100, the Montego Bay inspired collection has classic sportswear, like flat-front shorts and solid and checked button-downs as well as dad favorites like golf shorts and polos in every color.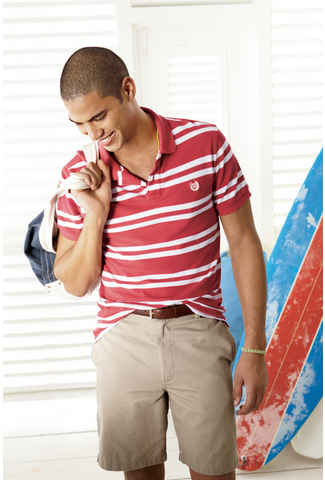 Chaps also gave Michael a pair of plaid swim trunks that come in fun bright plaids, which will come in handy for family-trips to Hershey Park, Turks & Caicos and the beach this summer!
For this Father's Day, Michael gave us a simple wish-list:  all he wants is a few  hours at the gym. Easy and Done.
Click here to see more from Chaps' Men's collection.
How will you be spending Father's Day this year?