Finally It is summertime and the outdoor deck (or in our case, our building's rooftop) is ready! If you have a slowcooker and a grill, I have a beautiful, colorful summertime BBQ meal for you and your family. Believe me, your family will eat everything up and be extremely impressed by the yummy bounty. I also love that you can prep and cook up all the vegetables and side dishes and keep them out until ready-to-serve.
Grilled vegetables. For this meal, I cut big circles (1″ thick) of a couple of vidalia onions and asparagus. I put 2 tbsp of good olive oil on them and salt (no pepper — it burns on the grill — let your guests put pepper on themselves), then put it on the grill for about 5 minutes or until it is cooked and has grill marks.
Boiled corn on the cob. I cut corn in half and boil them in salted water for 10-12 minutes. There's so many ways to cook corn, and this is the recipe that works for me and my family.
Roasted bite-size rainbow potatoes. While the corn is boiling, I roast up the potatoes. My girls love these colorful mini-potatoes and I love them because they are quick(ish) to roast. Just drizzle olive oil and salt (again, no pepper) and roast at 425° for 15-20 minutes, until fork-tender.
DIY tomato, mozzarella and basil salad. Because one of my daughters likes tomatoes, but the other one doesn't and both don't like basil, I cut up heirloom tomatoes, fresh mozzarella and snip some basil leaves. I put them on a plate and line up the tomatoes, mozzarella and basil in separate lines and let them pick and choose to make their own salad! Drizzle some balsamic vinegar and olive oil and you are all set.
The pièce de resistance is this easy slowcooker BBQ ribs recipe that I adapted from Weelicious.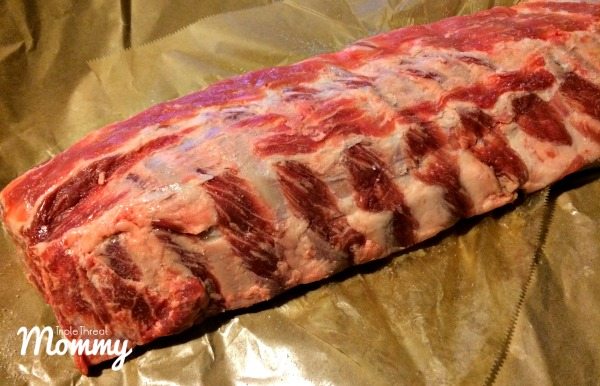 I picked up 2 lbs of pork ribs from Whole Foods. Looks so good, doesn't it? Then I just put a ton of salt & pepper on the ribs, liberally coat it with our favorite BBQ sauce and added it to our old faithful crockpot, which is literally from the 1980's.
…and I mean coat it very liberally with BBQ sauce. Then let it cook up for up to 8 hours in your crockpot. The meat will be falling off the bone. I mean falling. off. the. bone.
I mean, how delicious does this plate look?
My stomach is grumbling just looking at it!
Easy Slowcooker BBQ Ribs
Author: Adapted from a Weelicious Recipe
Recipe type: Entree
Cuisine: BBQ
Prep time: 
Cook time: 
Total time: 
Serves: 4
Ingredients
2 lbs pork ribs
salt & pepper
1 cup of your favorite BBQ sauce
2 bay leaves
Instructions
Depending on the size of the pork ribs, cut them so that they fit into your crockpot.
Salt and pepper both sides.
Brush both sides of the ribs liberally with your BBQ sauce. Make sure to cover everything.
Put ribs into your crockpot.
Any leftover sauce pour it right over the ribs.
Cook on high for 4 hours or low for 6-8 hours, depending on your crockpot. (My crockpot is old, and I cooked it on low for 8 hours and the meat was falling off the bone!
If you try this meal and recipe, please let me know how it turns out!