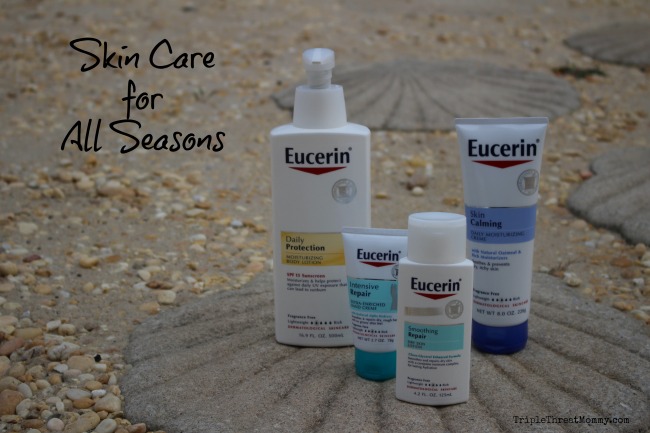 I was given samples for the purpose of this post. This post contains affiliate links. All opinions expressed are mine.
It's important to keep your skin looking in tip-top shape especially after a summer of sun, salt and sand. Heading into the cooler months of fall and winter, it's even more vital to make sure your skin is hydrated.
The team at Eucerin gave me a host of products to sample, which, to tell you the truth, I never knew existed. When I think of "Eucerin" I think of that big tub of super-rich lotion that I would only use during the winter months, but I was wrong! They have a range of products for different skin types and different occasions. What I truly appreciate is that the packaging tells you, on a  rating scale, how lightweight or rich the lotion is, so you can decide which lotion is right for you.
(far left) This is a fantastic everyday lotion that contains SPF 15 which really came in handy during our two weeks at the beach. I used it after our days at the beach, after a shower. It was still sunny and bright out and it was great that I knew that it protected me with its SPF 15 protection in a non-greasy lotion.
(second from left) I now keep this bottle on my bedside table and make sure to smother my hands and cuticles in it. As they say, your hands and your neck are the first to show your true age and my cuticles tend are so dry so anything that helps with the exfoliation process I love. This particular Eucerin lotion contains alphy hydroxy acids which helps speed the exfoliating process. My hands feel really smooth when I wake up in the morning.
(second from the right) After two weeks on vacation at the beach, my skin looked like an alligator after all the sun and salt. Eucerin's Smoothing Repair Lotion helped slough off the dead skin with its alpha hydroxy acids, and really helped my legs get nice and smooth.
(far right) The girls and I have eczema which tends to flare up during the cold and dry winter months. Using this on a daily, basis will help our dry skin and keep the eczema at bay.
Besides all the great things about Eucerin products, I especially love the fact that Eucerin products are dermatologist recommended. Have you used Eucerin products? If so, which ones?