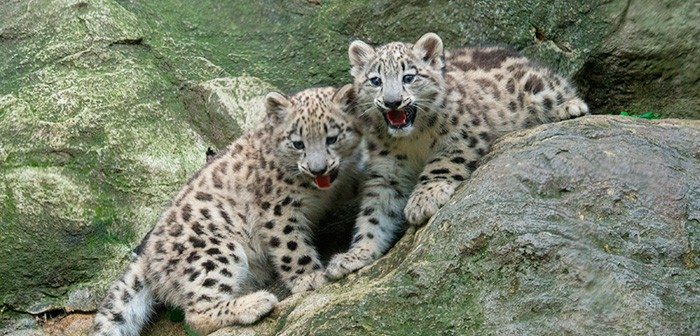 Fall is one of the best times to visit the Wildlife Conservation Society's zoos and aquarium. As the crowds thin and the weather cools, the animals become more active and exciting to watch. Here's a look at a few of the wonderful activities and educational programs coming up this fall at the WCS' five facilities.
The Himalayan Highlands Exhibit
The zoo is happy to have two new (small) additions (shown above) — a pair of snow leopard cubs! In May, the zoo welcomed a snow leopard cub duo, both males, who were born to first-time parents. Fall is the perfect time to visit with these animals as they engage in play. The Bronx Zoo has had over 70 snow leopard births as part of the Species Survival Plan, more than any other zoo in North America. Since these big cats are classified as endangered, this birth announcement is exciting!
Zoo Play: Toddlers (Ages 2-3 with adult) and Kinders (ages 4-5)
Do your kids want to know how animals change throughout the seasons? During these 6-session "caregiver-and-me" programs, kids will use dramatic play, sensory bins and games to connect to nature in a hands-on and educational way. Each session includes live animal visitors and lots of fun! Reserve your spot with Bronx Zoo Registration. Sign up soon! Space is limited.
A Celebration of Books and Otters
The Brooklyn Book Festival is coming up on September 15 – 20, which coincides with Sea Otter Awareness Week! In celebration of books and these amazing marine mammals, join the staff at the Prospect Park Zoo for free readings by author Jennifer Holland from the sea otters chapter of her new book, Unlikely Heroes.  Visitors will also enjoy special activities throughout the day highlighting the Prospect Park Zoo's river otters.
Date: Saturday, September 20
Time: 2:00pm
Breakfast in the Outback
Bring the whole family to have breakfast at the Zoo with the dingoes. Enjoy the fall weather as you eat special treats on the Discovery Trail, while the dingoes enjoy a special breakfast too. You'll take a tour of the animal kitchen, meet an animal up close, and learn about how the zoo feeds around 800 animals in one day! Reserve your spot today with Prospect Park Zoo Registration – space is limited.
Date: Sunday, September 28
Time: 9:30am-11:30am
Fall Fiesta
This wildly popular fun-filled family day includes games, themed crafts, scavenger hunts, meet-a-keeper, animal encounters, and live theater performances.
Date: Sunday, October 12
Time: 11:00am-3:00pm
Fall on the Farm
Come to the Queens Zoo and meet our barnyard bunch! This year's Moo at the Zoo event celebrates the season and all things domestic, from our Flemish Giant rabbits to our massive Texas Longhorns.  Check out animal keeper chats, cheese making demos, hands-on butter making, a cow milking simulator, farm-themed crafts, and special giveaways from Organic Valley. Also don't miss the chance to feed a llama, goat, or other corral critters. At Moo at the Zoo you can have a fun-filled day on the farm, right in the middle of Queens!
Dates: Saturday, October 4 and Sunday, October 5
Time: 11:00am–4:00pm
Fishy Times
Drop in to learn Gyotaku, the traditional form of Japanese fish printing.  Make your own keepsake print to take home! All ages welcomes, children under 14 must be accompanied by an adult.
Date: Sunday, September 14
Times: 11:30am-12:30pm and 2:00pm-3:00pm
Sea Stars – Spineless Wonders
Create your very own sea star as you discover fun and interesting facts about these amazing marine invertebrates.  Open to all ages, children under 14 must be accompanied by an adult.
Date: Saturday, October 4
Times: 11:30am-12:30pm and 2:00pm-3:00pm
BONUS! Make sure to take part in the WCS Wildlife Wednesdays Trivia Game!

Visit the Facebook pages for the Bronx Zoo, New York Aquarium, Central Park Zoo, Prospect Park Zoo and Queens Zoo on Wednesdays in September for your chance to win tickets and/or a 20% discount to these parks. Answer fall-related wildlife trivia, learn how seasonal changes impact animals' habits, and then visit these amazing species in person to see these behaviors for yourself. Be sure to like the WCS zoos and aquarium on Facebook for weekly updates and this limited time offer!
Please visit the Wildlife Conservation Society website for zoo and aquarium websites for more information on additional WCS programs and educational offerings, including overnights, Family Activities, and more.
This is part of a sponsored post series with the Wildlife Conservation Society. All opinions expressed are mine.