This is a sponsored post. I attended Strut: The Fashionable Mom's Show as a Cottonelle Ambassador. All opinions expressed are always mine.
New York Fashion Week just ended and it was a treat for me to go; I had left the crazy, whirlwind life in the corporate fashion world a few years ago so it truly is fun to come back as a "guest". This year, I attended Mercedes-Benz New York Fashion Week as a Cottonelle Blogger Ambassador at Strut: The Fashionable Mom's Fashion held at Lincoln Center in New York City.
I loved going back stage and feeling the craziness, electricity, stress and excitement that everyone has right before a huge fashion show. Hair and make-up getting touched-up, interviews being had, and a lot of hurrying up and waiting. Yup, I remember those fashion days! Being in the fashion industry, you need a ton of confidence and chutzpah; either you're born with it or you just need a little help from…well, other things.
Cottonelle was one of the sponsors of the fashion show and provided soft, comfortable seating and in the swag bag, a  go-pack of their FreshCare Flushable Cleansing Cloths.
So, let's just talk this one out, shall we?  We know what Cottonelle is and what it's used for. Yup. We're going to talk about that. So, the thing is Cottonelle has this new system, called the Cottonelle Care Routine where you use Cottonelle Toilet Paper and their FreshCare Flushable Cleansing Cloths. So that we can feel runway-ready and confident. Cottonelle even had a Clean and Fresh restroom set up right outside of Lincoln Center to test out the Cottonelle Care Routine. Seriously, we use wipes for our kids. Why wouldn't we use them for ourselves?!

The other Cottonelle blogger ambassadors who strutted their bums with a ton of confidence down the Strut runway are:
Melissa Chapman of Married My Sugar Daddy
Brianne Manz of Stroller in the City (and my fellow downtown NYC mom!)
Corine Ingrassia of Complicated Mama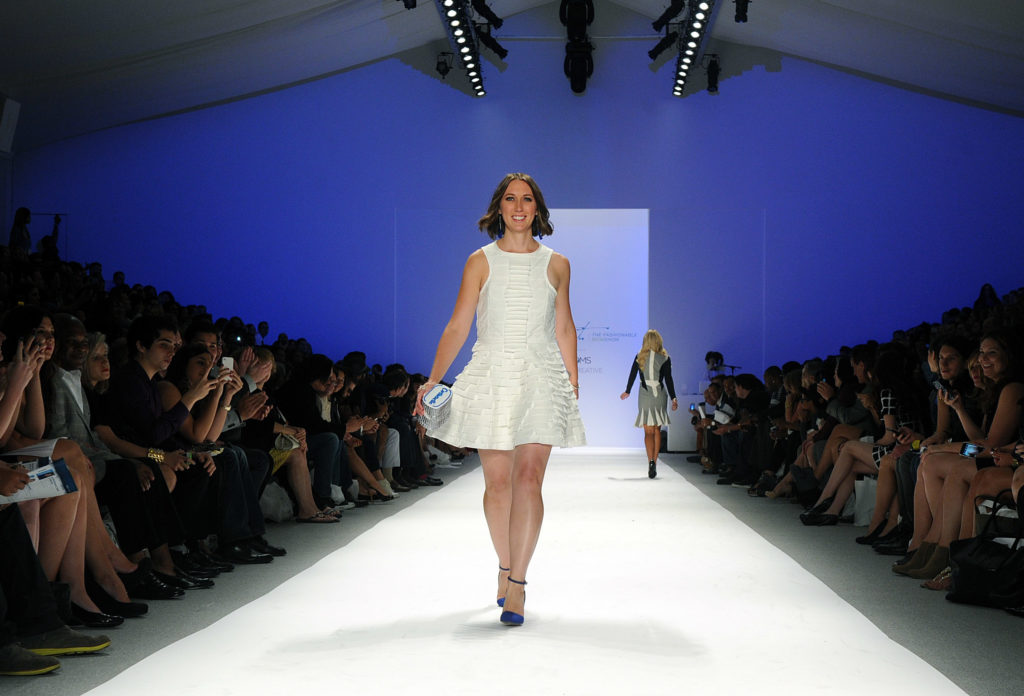 The above dress, designed by Morgan Walsh and worn by Cait Beauchain of The Honest Mommy, was made entirely of….you guessed, Cottonelle toilet paper. It's pretty amazing, don't you think? Talk about wearing confidence.
It was fabulous to attend Mercedes Benz New York Fashion Week and attend the after-party. Made me realize why I went into the fashion business in the first place: it's full of powerful and smart women with a ton of chutzpah and confidence.
For more information, visit the Cottonelle website and the Cottonelle Facebook page.
Pictures 6, 7 and 8 Runway pictures courtesy of Zimbio.com Pictures 5 and 9 courtesy of Cottonelle. All other pictures are mine.