Next week, we'll be heading out to southern Arizona for some family time and then after the holidays, a side trip up to Flagstaff, Arizona for post-holiday winter activities. We have never been to Flagstaff and are excited to explore this city. What I love most about Flagstaff  is that there is a host of outdoor winter activities – including skiing – in Flagstaff. I contacted the Flagstaff, Arizona Visitors Bureau who put together the following Top 5 fun things to do with the family in Flagstaff, Arizona. {And if you want to join us on our trip, make sure to follow us at #TTMdoesFlagstaff!}
1. Stargazing at Lowell Observatory One Evening:  The Observatory is open from Noon to 9:30 p.m. or 5:00 p.m. depending on the day you go during the winter.  You can visit anytime during the day but the staff at the Visitors Bureau recommend the evening when they have the Clark Dome open and the 110+ year old telescope is in use.  During the day there's a guided historical tour offered for the Pluto telescope at 2 p.m. or 4 p.m. and the Clark telescope at 3 p.m. or 5 p.m. Tip: Lowell is located at 7200′. You will want to pace yourself if you're not accustomed to the high elevation. Avoid becoming dehydrated by drinking plenty of water. Dress in layers; evenings can be cold, even in the summer. In the daytime, wear sunscreen to protect against sunburn.  Lowell Observatory is on 1400 West Mars Hill Road Flagstaff, AZ 86001. 928.774.3358. @PercivalLowell
2. Sleigh Ride through the Coconino National Forest with Hitchin' Post Stables. This is a true sleigh ride thorough an actual Winter Wonderland (and if there is no snow, the sleighs convert to wagons). The Visitor's Bureau suggests that this could be a mid-day activity.
 Hitchin'  Post has brought on a full team of wranglers ready to lead you on a guided ride through pine scented forests and iconic northern Arizona landscapes and then stop for a cup of hot cocoa or apple cider (so much fun!!) before the ride back to the stables. Hitchin' Post Stables is located on 4848 Lake Mary Road, Flagstaff, Arizona 86001.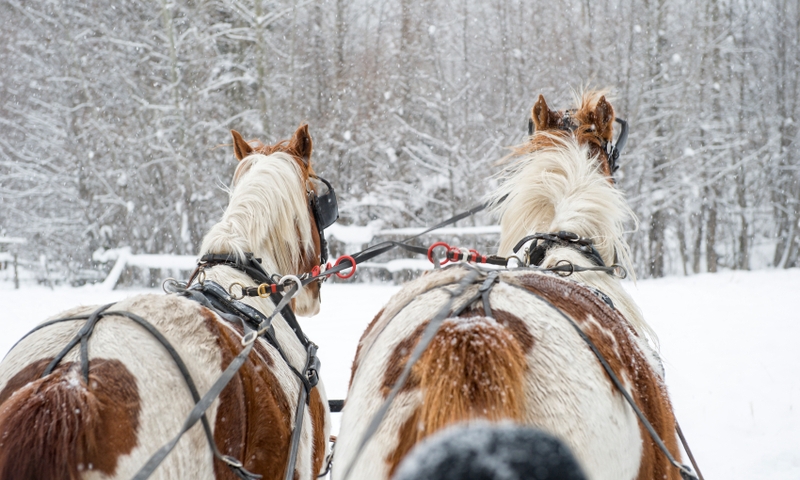 3. Bearizona Drive-Thru Wildlife Park .  Bearizona  is a North American wildlife park that allows its visitors to see herd and pack life in their natural habitat through the comfort of a private vehicle. There are two portions of the Bearizona:  Fort Bearizona Walking Trail and the drive-through portion. The FAQ section says the best time to come is either in the early morning or late in the day; after the last bird show of the day, go through Fort Bearizona and then drive through Bearizona. Tip: The Visitor's Bureau says to plan at least 2 hours for this experience. Bearizona is located at 1500 E. Route 66, Williams, Arizona 86046. @Bearizona
4. Skiing at Arizona Snowbowl. Ok, who ever thought that there'd be skiing in ARIZONA! Well, there actually is — in Flagstaff! And Arizona Snowbowl just got over 3 feet of snow this past week. I'm only hoping that the snow lasts through next week when we get there. Arizona Snowbowl is celebrating its 75th Anniversary this year and just opened its Winter 2012-2013 season today. It's in the San Francisco Peaks, just 70 miles from the Grand Canyon. Arizona Snowbowl is between 9000 and 11,500 feet so it is up there. The girls are planning on going to ski school , to help perfect their skiing skills. The little Ski Wee's have full-day and afternoon classes; the older kids Ridgerunner and Ridgerider program have two or four-hour lessons – which is perfect for me so that I can have some ski time with Miss O! Arizona Snowbowl is located seven miles northwest of Flagstaff on Highway 180. 928.779.1591. @AZSnowbowl.
5. Dinner at the Galaxy Diner:  This is a true 50's diner on historic Route 66. You can saddle up to the soda fountain for a burger and milkshake or breakfast anytime of the day. You can even drop a coin in the juke box and do the "twist" or try to name the black and white photos of famous movie stars that cover the walls. On Friday nights there are usually classic hot rod cars parked out in front to look at (guess I know where we'll be having dinner Friday night). Great prices and lots of neon!  The Galaxy Diner is located at 931 W Route 66 (just one block west of Milton) Flagstaff, AZ 86001
. 928.774.2466. Open Friday and Saturday from 6 a.m. – 10 p.m.
For more information, please visit the official website of the Flagstaff Convention and Visitors Bureau, follow them on Twitter @VisitFlagstaff or visit the Flagstaff, Arizona Facebook page.