It's so hard to believe that the holiday season is upon us. The smells of fir trees are wafting throughout Whole Foods here in TriBeCa, "A Charlie Brown Christmas" special has been scheduled for December 2nd, and Nicole Feliciano from Momtrends had her annual holiday get-together of influencers and editors.
It was held at the Roberta Freymann showroom here in TriBeCa. Roberta Freymann's passion is fashion and travel which shows through in her specially curated store. Her apparel, home goods and accessories all have a global, exotic sense but with a touch of whimsy and color.
Some great gift ideas from Roberta Freymann are beautifully designed coasters and ornaments.
Other gifting items included "Mommy and Me" pajama sets (how adorable!), beach blankets and bags for those traveling to warmer climates for the holidays, and picture frames.
My personal favorite is this hand clutch – this would definitely be a gift…for me!
We then had a holiday decorating tips from Teleflora, who gave us the trends that will bring a warm smile to anyone for this holiday season, as well as holiday decorating tips!
I'm hosting a $50 Giveaway to Teleflora so you can dress up your home with their beautiful holiday florals, so make sure to look out for that exclusive post that will be coming very soon!
We also got to taste some fun new treats that can inspire you to change-up your holiday table.
I think the Welch's Frozen Smoothie Kit would be a fun and healthy drink for the kids. Dressed up in little plastic glasses with some speared fruit, the kids won't know that they're getting a bunch of Vitamin C and Calcium!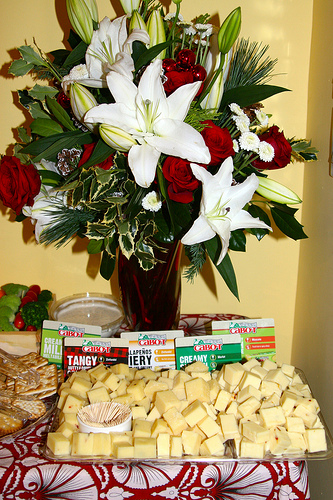 A cheese platter from Cabot cheese (who knew they had so many flavors?) is always a favorite for any party guest. Pare up with a plateful of assorted crackers, breads, salami and prosciutto.
For those with a sweet tooth, some hazelnut spread (not the one that you're used to)…but this brand, Nocciolata, that I've never had before. It has a dark chocolate taste, so it is a bit different, but still delicious. what is also great is that it is USDA organic certified, all-natural raw ingredients, no artificial colors or preservatives, no GMO's and no hydrogenated fat. This could be a great dip with fruit at your next gathering.
What are you planning for your holiday get-together?
For more information, please visit the following websites: Roberta Freymann, Teleflora, Welch's, Nocciolata, and Cabot cheese.