Sometimes black, white and grey just nail it for me. It's simple, sleek and very New York City. When I started out in the fashion industry, I was on the buying and merchandising team of a then Fortune 500 company. I was regularly in meetings with our president and I never understood why she always looked so put together. So effortless. So chic.
I remembered when it finally clicked and I realized why she always looked that way. It's because she wore black. All the time.  This is how to wear black, white and grey so you can lighten up an all-black outfit, especially once the weather starts to warm up. Just change out the boots for some chic ballet flats.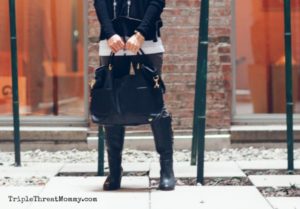 Gold hardware gives the outfit some luxe sparkle.
I love the unpredictable details on this LABEL+thread string tie cardigan with contrast details on the front and the back and hand-crochet ties.
Some gold arm candy adds a bit of edge and femininity.
TOP: LABEL+thread Drop Needle Cardigan | TANK: LABEL+thread layering tank | JEANS: Bird by Juicy Couture (now defunct) but Juicy has some great coated jeans | BOOTS: Lucky Jeans | BAG: Kate Spade similar kate spade new york Crossbody – Cobble Hill Ellen  | ARM CANDY:  Jennifer Fisher Jewelry Headdress Bangle,  Nashelle Jewelry bracelet, my mom's vintage rose gold bracelet