You don't have to leave the city to enjoy winter sports. Right here in the urban jungle, there are four inexpensive ice skating rinks in New York City that are an easy subway ride away. All of them have skate rentals and food for purchase either at the rink or nearby.
The South Street Seaport Ice Skating Rink:  Open until March 2nd, 2014. Admission is $10, kids under $5 are free. Skate and helmet rentals are $6 each. Bag check is $8. Downtown residents who live in zip codes 10038 and 10005, with valid ID, receive 50% off admission, skate rentals and helmet rentals! There's great restaurants nearby in the Seaport for you to go to and support! We especially LOVE Jack's Stir-Brew for coffee and pastries. 

The Ice Skating Rink at Brookfield Place: This is in Battery Park City right outside the Winter Garden.  It's $15 admission, and a $5 skate rental. It's open from 10am – 10pm every day, so it's a great activity for the family anytime! And again, the admission and skate rental prices are pretty reasonable. 

Ice Skating at the Winter Village in Bryant Park:  Free admission, $15 skate rental, $6 helmet rental. Lockers are free, but if you want a lock its $9. Bag check is $8-$10 depending on the size of your bag. There are special skating packages for a season pass or large groups and families. Because it's in Bryant Park, it can get crowded, and at night the crowd tends to lean towards teenagers. So, if you're a family, I'd suggest going earlier in the day. Food is all around Bryant Park from sit-down restaurants
Wollman Rink at Central Park:  Admission is from $11.25 – $18 depending on the day. Children under 11 years old are $6. Skate rentals are $8. It's Central Park, so this will definitely be more crowded than the others. Because this is Central Park, expect crowds, so go on the early side.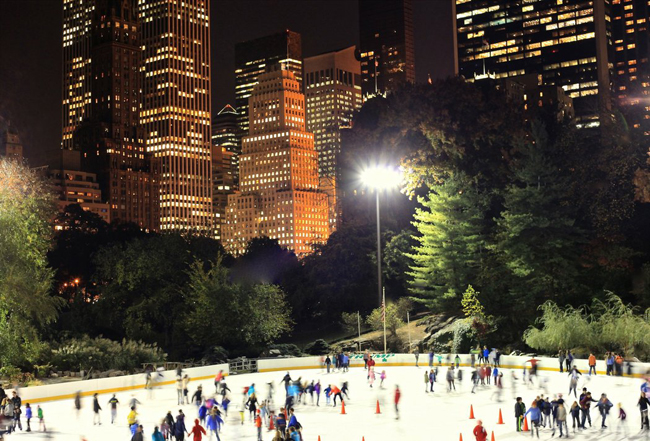 Four Tips for when you Ice Skate in New York City
1.  Bring a helmet. The ice is hard and if you fall, you want to be protected. Safety never takes a holiday.
2. Bring your own healthy snacks to cut down on costs. You can keep it in a back-pack while you are skating, or if you have family member who doesn't skate, they can hold on to it.
3. Get there early to beat the crowds. We like getting up early and getting there first.
5. Ask in advance about the rinks for ice skating lesson rates. The rates are usually pretty reasonable. From my experience all you need, is a lesson or two and you're pretty good to go.
Which ice skating rinks in New York City have you gone to?