We are big Lands End fans — especially for their kids outerwear and boots. Every year, it's like clock-work at our apartment: every winter, around September or October, I buy the girls' winter jackets, snow pants, fleece sweaters and boots. In the Spring, it's time to buy their rain coats and rain boots.  This has happened for 9 years now, since O was a baby. Luckily, Lands End quality is so good that we are able to keep a lot of O's outerwear and save it for S.
Three reasons why we Love Lands End:
Quality – We have kept coats for FIVE years so that our younger one can wear the hand-me-downs. They are still as good as new…and the price? You can't beat the quality for what you pay for. All of their outerwear is also machine-washable so its easy to keep clean.
Trustworthy – I know that when my girls are wearing Lands End, they will be kept warm and dry. It's just one less thing you have to worry about as a parent.
Grow A-Longs – I love this feature. Most of their outerwear has this Grow-A-Longs feature where it is designed to "grow" are your child gets taller. Sleeves will get 1 1/2″ longer and pant legs get an extra 2″ longer. Which means that you can possibly wear the same outerwear for two winters in a row depending on how your child grows. We were able to use the same outerwear last year because I let out the hem (pretty simple to do — took me about 20 minutes per garment). Talk about value!
This year we plan on doing some skiing (crossing our fingers for snow). First stop:  to Arizona for the Christmas holidays and hopefully some skiing in Flagstaff at the Arizona Snowbowl (YES! There is skiing in Arizona!). Instead of buying super-expensive ski gear at a sports apparel store, I head on over to Lands' End Kids Outerwear department and stock up on winter / ski gear. **Note that I bought the below before discovering Lands' End Kids Ski Gear, which they have on their site, so you should definitely check that out, too!
Kids Squall Waterproof Jackets:  They get to wear this on and off the slopes and I just know that they are warm and take care of. Also, the girls like it because it is not a "heavy" jacket. What I love most about their jackets are the zippers — Lands End zippers are so easy to zip up that even my 5-year old can zip up her jacket with no help at all.
Kids Waterproof Squall Bibs: These are warm and comfortable and are perfect for snow playing, skiing or walking around New York City when it is 15 degrees out. There's extra room in the bottom part of the leg so that boots can easily be worn; it also has side zippers and elastic to protect from the snow from entering the pants. Lands End has snow pants versions (basically without the bib/overall part) but we find this to be easier to wear because they stay up.
Thermaskin Tops and Pants: These are your updated thermals from back-in-the-day. They are light, they keep them warm and dry with its special wicking properties, AND it has a special anti-microbial finish to keep odors down (great and EWW at the same time).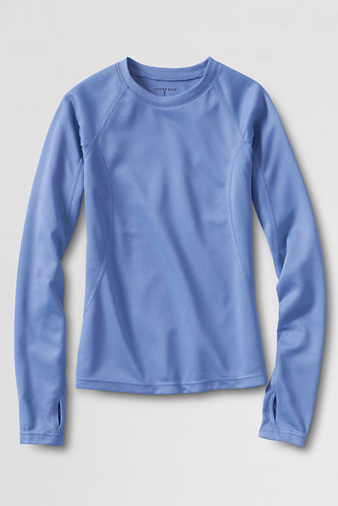 Girls Snow Plow Boots.  Again, any of their boots are perfectly fine. They always keep my girls toes warm and comfy and I know that they won't slip and trip when its icy outside. I especially love the easy-on and easy-off as well as the toggle top that keeps snow out.
What do you wrap your kids in when the weather gets c-c-c-cold??