Thank you for American Girl for sponsoring this post! 
So, we tend to do things a little late in this family. We have two girls, a 6th grader and 2nd grader and last year was our first time at Disney World. So, it's only fitting that — although we live in New York City — we had gone to the American Girl store for the first time a few days ago. Good things come to those who wait. Because boy, did we have a blast celebrating the launch of the American Girl Truly Me Signature Studio!
The Truly Me Signature Studio is a place in the American Girl doll store where your daughter can create and personalize doll outfits and doll carrier. But first, you have to pick out your doll! Our 2nd grader picked out her very own American Girl Truly Me doll. It took her a few minutes to figure out which one would come home with us; she was very deliberate in her choice and chose Truly Me doll #35, who she later named, Emma.

How happy is she?!? Next up we went up to the Truly Me Signature Studio. Like I mentioned, its an interactive experience where she created personalized outfits and accessories for her doll, and for herself — to take home the same day! She choose from doll-size outfits, pajamas or a doll carrier. 
You use a tablet to pick the accessory or outfit, then design it with pre-populated colors, prints and trim. 
And within 30 minutes, she had her very own customized doll-carrier and doll pajamas! Since she was old enough, she knew exactly how to use the tablet and basically did everything herself, with minimal help from me or a sales associate. 
Emma's hairstylist was super nice and engaged with Sydney and told her how to take care of Emma's hair. (Tip: Use a brush with metal teeth, only. And when you wet the doll's hair, only use water. To smooth out wet hair, use a toothbrush to comb it through.) The hair styling took 10-minutes and our 2nd grader waited patiently and chatted with her hair stylist. Voila! A beautiful "Waterfall" hair-do for Emma! (Now if only I could get my daughter to brush her own hair!)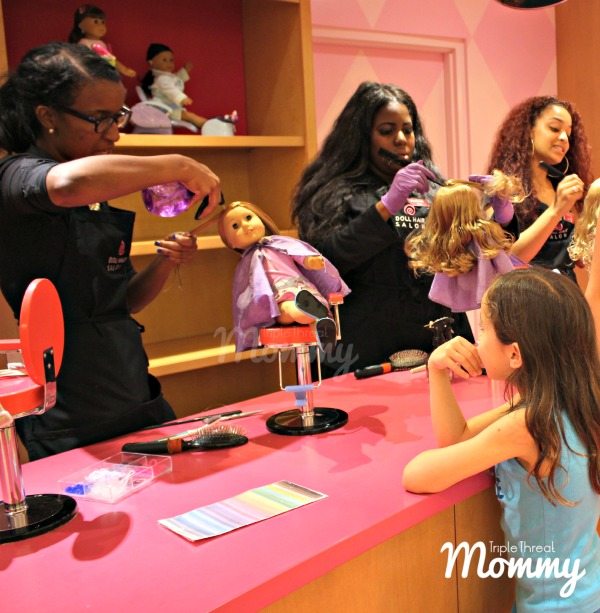 Now that everyone had outfits, accessories and a spectacular hair-do, dinner was next in the super-cute American Girl Cafe.  Not one detail was overlooked, including the high chairs for the dolls so that they, too, can have a "meal". Meals start with ridiculously good and gooey cinnamon buns, then healthy options in a crudite platter. The cafe has a wide variety of entrees for both big and little people. 
I went healthy and had the Asian chicken salad with the dressing on the side and she had the "Bitty Bites" which was a plate with a mini-burger, mini-hot dog and mini mac & cheese. There are other options including pizza, chicken fingers and salmon and artichokes for the more sophisticated palettes. Dessert was their signature flower pot chocolate mousse and a vanilla cupcake. I have to say, that I was impressed with the food quality and selection — and this is coming from a jaded New Yorker. You won't be disappointed!
Since this was our first time going to the American Girl store, I wanted to share my tips on what you could do to make your visit easy. So here you go:
4 Tips for making your American Girl store Experience Memorable:
Plan ahead. Call and make as many reservations as possible, for example for their hair salon and the cafe.
Go early. Like any attraction, the earlier the better. You beat the crowds, and you and your kids won't have meltdowns.
Set a budget ahead of time. You can spend a lot of money at the American Girl store. Whether its $20 or $200, make sure you set a budget and communicate it to your child well before your visit (and continue to reiterate it and stick to your word when you are there).
Let your kids lead you. The experience is for them, so let them lead the way. If they want to stop and look at a certain doll for 15 minutes, let them do so. (But if you do have appointments, be sure to give them ample time.) There will be so much to look at that that you will want to see, but remember its for them. You all will have a much better time letting them show you around.
So yes, even though my girls were pretty late to the American Girl doll game, the experience was perfect for an almost-8 year old. She was able to appreciate every experience and experience it for herself, as opposed to me doing it for her. So don't put pressure on yourself if you haven't gone yet — there's always time. If you have other tips for making your American Girl store experience memorable, let me know! Click here for more information about the American Girl Truly Signature experience, and for more information visit the American Girl website!
Thank you for American Girl for sponsoring this post. All opinions expressed are mine (or my daughter's in this case)