Living in New York City means we get our pick of the most amazing food. One of our favorites is Korean because of its flavorful cuisine.  A few weeks ago, on the First Full Moon of the Korean Lunar New Year, the Korean Food Foundation launched the Korean Restaurant Guide – New York.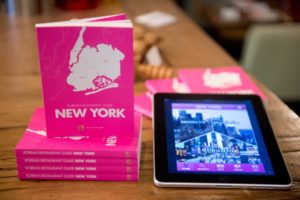 The new guide features the top 40 Korean restaurants in the New York City area, based on cuisine, service and atmosphere. The restaurants were chosen by a group of chefs and journalists who dined at each restaurant three times before being selected to be put into the guide.
I don't know about you, but we usually get into a rut of going to the same restaurants over and over. Guides like this opens up a huge culinary world for us. We know that the restaurants have been thoroughly vetted so all we have to do is pick a Korean restaurant, book a babysitter and we know we are in for a night of delicious Korean food.
The launch for the Korean Restaurant Guide – New York was held at Hanjan, a new Korean restaurant where award-winning chef and restaurateur, Chef Hooni Kim is the owner (he also is the chef-owner of Danji). The cuisine is a modern take on traditional Korean food but still keeps the traditional flavors. The restaurant is small and cozy — perfect for a date night.
Our delicious meal at Hanjan (clockwise from top): Galbi Ssam Set (grilled beef ribs, winter lettuce and ssamjang), Namul Duo and Kimchi (spinach, bean sprout and Napa cabbage kimchi), Ogokbap (five grain rice), Hobak Juk (butternut squash porridge)
Our meal at Hanjan was spectacular. SPECTACULAR. The flavors were familiar, yet with some surprises. The butternut squash porridge was smooth, sweet and silky. The Namu Duo and Kimchi had the perfect blend of spices and the best part of our meal, the grilled beef ribs with winter lettuce wrap, was so tender and flavorful I wish I had another serving. I've already dog-eared some restaurants that either me and my husband will go for a date night or out with my friends for a Girls Night Out. The best part? They're not the same ones we usually go to!
How do you get the Korean Restaurant Guide – New York?
The guide is now available as a free app. Click here for the Android App and the iPhone App. It is also available in New York City at the Korean Embassy, the Korean Cultural Center and at the restaurants featured in the guide.
Click here for more information about the Korean Food Foundation