When I married my husband, I took a vow to "be his cheerleader for the rest of our lives." And I am so happy and proud to say that I loved being his cheerleader in his latest adventure. But, before I go into the story, I have to back up.
One evening in early 2010, after the girls had gone to sleep and The Hubby and I were in the kitchen cleaning up the dishes, he said, "I have something to tell you." My heart and my stomach dropped. The way he sounded, it was like he was about to confess something to me. He continued, "For the past year…." My heart and my stomach were basically on the floor at this point. I thought to myself, "Well, my life is about to completely change right now with whatever he is about to tell me." He then completed his sentence, "For the past year, I've been writing a book, and I think I'm done and I want you to read it." After I picked myself up from the floor, and after almost hitting him for giving me a heart-attack, I finally was able to speak. "You wrote a book?!? When?!?"
Ok, now I have to further describe the situation. In 2009, I had a C-R-A-Z-Y job in the fashion industry, doing marketing. It was a great job with great people, but required a ton of hours. On top of that, I was in school finishing up my Master's degree at NYU for Digital Marketing. The work week went like this:  I would work late 3 nights a week; the fourth night I would have class until 9pm and promptly go back to the office until midnight or so. Therefore, four out of five nights I wasn't home and The Hubby, the amazing husband that he is, would come home from work, read to the girls and make sure they went to bed on time.
So, I basically answered my own question, "You wrote a book?!? When?!?" Duh. When I wasn't home, that's when.
When we started dating fourteen years ago, The Hubby had a bunch of these tattered notebooks which he was always writing in. He asked me,  "Please don't read them. They are filled with stories that aren't finished yet, and I just don't want you to read them." I honored his wishes and never, ever once peeked.
Fourteen years later, he let me read what he'd been writing. His book, A Deep Scratch in the Vinyl is such a GREAT read. I know, you think I'm biased because I'm his wife, but I am a picky reader (not a snooty reader, just picky). If I'm not entertained within the first two pages, I'm done. Well, I finished his book in three days. A Deep Scratch in the Vinyl is about the relationship of two friends who grew up together in New York City. It's a story about their lives, and how their lives changed when a certain girl enters the picture. It takes place in the East Village and in Los Angeles during the 90′s, when New York City was still gritty and rough and Los Angeles was coming off of the Rodney King riots.
After I read it, I gave him some suggestions. He edited, made several changes, and then tried to get it published by those huge publishing houses. Well, that didn't work out so well. He wasn't famous, we don't have a recognizable last name and we certainly don't have celebrity status. Enter our friend, John Nicosia. A lawyer by day, and a lover of books the rest of the time. After 15 or so years as a lawyer, he realized that he wasn't loving what he was doing and called it quits. He decided he was going to be an e-book publisher and that the first book he was going to publish was A Deep Scratch in the Vinyl. He set up his own e-publishing house called, Cerro Chato Publishing and did what publishers do: got the book edited, the book cover designed, and published it on Amazon.com, BarnesandNoble.com, and on iBookStore. Holy cow, now people can actually buy it and read it!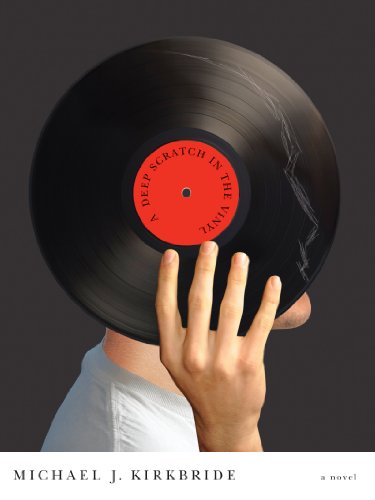 John went a step further and wanted to get A Deep Scratch in the Vinyl out in front of people. He was in the middle of publishing a second book by Jason Hefter called Hump Day (out March 28), and decided to do a book reading and signing for both books last week on February 29th. With my marketing and event planning background, I helped John in the logistics and planning of the event– from sending out invitations to setting up a Facebook page and a Twitter account, to helping set up the space prior to the event.
There was so much love, energy and support at the book signing and reading. It felt like another wedding for us. There were 80 of our closest family and friends who came to support, cheer and buy a signed book. We are so proud of The Hubby, Michael J. Kirkbride (now you officially know his name), for all that he has accomplished. He wrote this book because of his passion for writing, while being a daddy, a mommy and working full-time in the financial industry. I think I have to start calling him Triple Threat Daddy.
xo
TTM
A big thank you and congratulations to John Nicosia, of Cerro Chato Publishing, who believed in Michael's book, and for getting it to see the light of day.