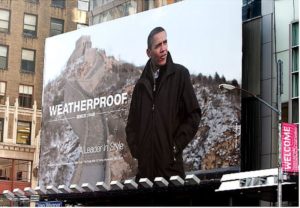 My boss' office overlooks the looming picture of President Barack Obama and we've been perplexed all week as to whether or not President Obama really did in fact endorse Weatherproof.  We were asking why we didn't think of it considering Michelle Obama has been photographed wearing Liz Claiborne New York a few months ago.  Being marketers, we questioned the legitimacy of the ad, but hey, people are talking about Weatherproof, and that's the end goal of marketing, right? I wouldn't be sitting here at 8:45 at night writing about Weatherproof, even linking to their site, if it wasn't for that ad.
Finally, the question has been answered.  According to Racked.com, this, in fact, was a publicity stunt.  Seems like Weatherproof's chief, Freddie Stollmack's, marketing strategy is to get any kind of press that he can get.  Check out this picture of him trying to put on a Weatherproof jacket on the Naked Cowboy who is a living landmark in Times Square.
All I have to say is that takes balls!  Use the President's picture without permission?  I mean, he bought the right from AP, but WOW!  And I have to say, I'm a bit jealous.  Thoughts?
xo
TTM