When our eldest daughter turned 7 earlier this summer, we decided that it was time to change her room into a Big Birl Room.  I searched online for an affordable kids desk – one that wouldn't fall apart next year, but wasn't so expensive that it cost more than the furniture in my bedroom.  I searched on Pottery Barn Kids, Pottery Barn Teen, Ikea, Target, and finally, JCPenney.
JCPenney has an extensive kids/teens furniture selection – at great prices – they're about $1000-$1500 less than the Pottery Barn Kids versions.  After a long time of searching, I settled on the Linden Street Create Your Own Desk from JCPenney.com.  It came in a white color, and the modular system can be used in various ways.  Since I am a one-stop simple shopper – what they had shown is exactly what I bought – except in white.  At the time, the items were on sale (they still are, so hurry!!) the total came to a little over $700 (!!) and I was able to save over $1100! Something similar at PBTeen would have cost me $1600 + shipping.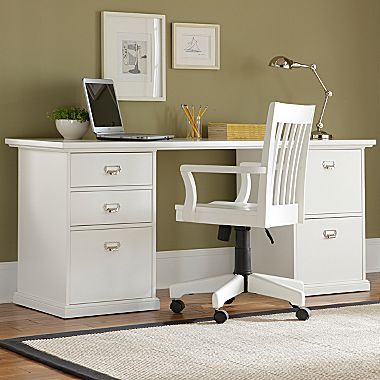 So, I ordered the desk from JCPenney.com on 6/27/10 and it came right before the July 4th weekend which, too me, was extremely fast considering that it came in 8 large boxes.  The Hubby took about two afternoons putting it all together.  Instructions were clear (relatively speaking – especially in comparison to those Ikea ones) and the only thing we had to do is purchase furniture glue and dig out our electric screwdriver (tip: an electric screwdriver is a must-have or assembly will cost you several days – and your sanity).
The only complaint I do have is the paint odor that took about a month to disappear.  I did worry that my daughter was breathing in fumes, so we made sure to clean off the desk as soon as it was assembled and kept her room well ventilated.  I do wish that they would make "green" furniture affordable!! Other than that, we are definitely happy with our purchase from JCPenney.com.  And now, our little girl isn't such a little girl anymore, but that's a whole other post….