Finding a good, protective laptop bag that is fashionable and carries more than a laptop is pretty tough. Most of the time, I would have to carry my laptop in a separate bag PLUS my purse, so I'd be carrying two things. Not exactly the picture of efficiency.
So, when I had the chance to take the knomo Aurora Laptop Bag to Philadelphia with me, I jumped at the chance. Below are the five reasons why I give the knomo bag a thumbs-up!
1. The Space. The first thing that I noticed was that the bag can change from a flat laptop bag to a true tote-bag in seconds by  unzipping the side zips. In doing so, the bag expanded another 4 (yes, four!) inches!
2. The Inside Space is Super-Efficient.  There's the main compartment, the laptop compartment and an inside-side pocket that is large enough to hold your phone, wallet, keys and important documents. When we went to Philadelphia, we were with our two girls and my knomo Aurora became the catch-all for everyone. By the time we reached the train station, my laptop bag had my laptop, laptop charger, large wallet, iPhone, our itinerary, my 5-year old's jacket, her sweater, two bagels with cream cheese and their bottled drink.
3. The Laptop Compartment. This is designed with a shock-proof protective pouch made from 15mm of quilted, high-density foam for extra protection. There's also a button closure to keep your laptop in its place.  I knew that my laptop was safe and protected inside.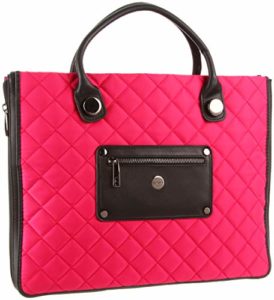 4. It's Beautiful. knomo was created with the purpose of making laptop bags that people want to actually carry. They come in fashionable styles and colors with attentive design details like a short carry handle or a detachable, adjustable shoulder strap, leather-like trim and a Scotch-guarded exterior for messy spills.
5. knomo™ Things of Everything:  knomo products are guaranteed for two years and each product has a unique 'If Lost' ID number, called the knomo Tracker™, stitched inside to help reunite you with your knomo (if you register your product). The bags are even "torture-tested" by dropping them 2,500 times while loaded with a 33-pound weight.
The Bottom Line: My knomo Aurora Laptop bag was my purse, laptop bag and extra catch-all bag during our trip to Philadelphia. It is versatile, functional and beautiful. If you're traveling this holiday season and need a good laptop bag, or are looking for a gift for your loved one, the knomo Aurora is a fabulous, fashionable, high-quality choice.
Click here for more information on knomo's products and to see their new colors for this season.
I am participating in Monday Mingle at Momtrends , What I Wore Wednesday, and Fashion Friday.