What better way to kick off the back-to-school season than with a Ralph Lauren Girls Fashion Show for Fall 2012? This was the girls' first fashion show. They didn't know what to expect but they were very excited.
We were all delighted when they were shown to their FRONT ROW seats, along with 25 other mini-fashionistas. They were even more excited to receive the cutest Ralph Lauren suede fringe mini-purse, perfect to hold princesses and crayons. You can see the show's finale in the video below! 
As soon as the lights went down and the music went up, they became the fashion-show-attendee-pros clapping at just the right moments.
In true Ralph Lauren style, there were lots of classic fabrics and textures like tweeds, twills, denims, herringbones, fair isles, argyles, velvets and corduroys in the most perfect fall neutrals but paired with fun colors (the collection is for girls, you know) like hot pink or yellow corduroy leggings or a green tweed jacket.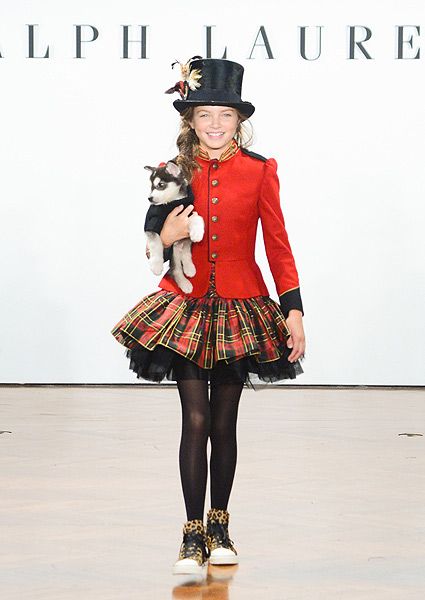 There were lots of luxe touches like faux fur trapper hats, vests and trim on various outerwear pieces. Bottoms included skinny jeans in various washes, including a pretty cool patchwork skinny jean. We especially love the cozy cardigans in fair isles, and hand knit heathers.
And it wouldn't be a Ralph Lauren show without the beautiful party dresses in velvet tulle, red duchess satin, plaid silk taffeta with a cashmere princess coat to top it all.
Watch the RALPH LAUREN GIRLS FALL 2012 SHOW'S FINALE:
After the show ended, the girls and I headed back downtown, ate Chinese food and got their backpacks, lunchbags and outfits ready for their first day of school tomorrow. The fun and fantasy did end, but they'll definitely have lots of fashion news to tell their friends!
Click to shop the Fall 2012 Ralph Lauren Girls Collection.