We live in New York City, which means we ride the subway as our main mode of transportation. Although we love staying in the city, exploring, eating at our favorite restaurants and playing in our great playgrounds, we like to get out and away for the weekend.
Evenflo, gave our family an amazing opportunity to visit Woodloch Pines Resort in the Pocono Mountains while testing out Evenflo Platinum SecureKid™ DLX Harness Booster Seat (shown below) from the latest line of their Evenflo Platinum Protection series car seats.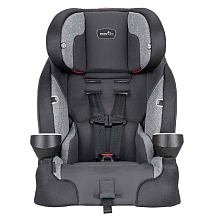 Our first grader is a little over 40 lbs and over 4 feet tall, so my husband had to convert the seat from an infant seat to a booster. It took him a good 30 minutes to convert the seat from an infant seat to a belt-positioning booster (let it be known that he is not that great with following directions — like many men [sorry for the stereotype but its true!]) but once it was all set, she was happy (and safe) as a clam.
This is the first time she's ever used the real car seatbelt and I thought it might be uncomfortable for her having the strap over her chest, but as you can see, she was really happy!
Evenflo Believes a Peaceful Ride is a Safe Ride
Evenflo created these car seats meeting the real safety, comfort and convenience needs of us — parents — their customers through consumer insights. The big "A-Ha!" breakthrough Evenflo figured out was that distracted parents are 300% more likely to get into an accident. When a child is uncomfortable in their car seat, everyone in the car is less safe because mom and dad aren't paying attention to the road, they're distracted by their child!
Evenflo's innovation focused on helping to prevent the accident from ever happening, by keeping baby comfortable, so parents can focus on the driving by….
Taking safety and comfort to the next level with launch of Evenflo Platinum Protection Series car seats which feature NASA-developed Outlast™ Performance Fabrics
1. Temperature regulating fabric in the padding of the seats to keep kids comfortable during hot or cold weather
2. Fabric balances a child's body temperature by actively absorbing  and storing hot and cold temperatures and releasing as needed
3. Reduces perspiration so the child stays drier and more comfortable
Seats also feature innovative Buckle Pockets as another safety and convenience benefit

You know how hard it is to get your child out of the car seat with the straps and buckles getting in the way? How about in the summer when the metal buckles get so hot you basically burn your child's leg?
Evenflo has the answer. The Platinum Protection Series car seats features Buckle Pockets that tuck the buckle tongues away, making it easier and safer to get your kid in-and-out of the car seats and keeps the buckle away from the sun, ultimately protecting your kid from hot buckle burns.
On our way to Woodloch Pines Resort, we played Woodloch Billboard BINGO, the girls played silly games, watched movies (Disney's Frozen of course) — just like a good old family road trip. Our ride back to New York City was pretty much the same but it was a bit nerve-wracking because of the pouring rain. My husband is a good driver, but it made me feel better that the car seat we were using was super-safe and super-comfortable.
Happy kids mean a safe ride, which means a happy mommy.
For more information, visit the Evenflo website. The Evenflo Platinum Protection Series Car Seats will be available online at Babies "R" Us beginning in March; at stores nationwide starting in April. 
More Information about the Evenflo Platinum SecureKid™ DLX Harness Booster Seat that we sampled:
1. SRP: $169.99 at Babies "R" Us and BRU.com
2. Features superior safety with E3 side impact protection and the easiest LATCH installation available
3. Outlast®  Technology in the padding of the car seat
4. Buckle Pockets to protect from buckles getting hot or lost
5. Accommodates children from 22-110lbs, easily transitioning from a harnessed booster (22-65 lbs) to a belt-positioning booster (40-110 lbs)
6. SureLATCH Connectors – Just Click, Click, Push for super-fast, super-snug installation in less than 60 seconds
7. Adjustable headrest grows with your child
8. Simple adjustability with upfront harness fitting
9. 4-shoulder strap positions accommodate growing children longer
10. Dual integrated cup holders for convenience
11. Machine-washable car seat pad keeps the seat looking clean
12. Energy absorbing foam liner provides added safety & comfort
Click on this link to watch Evenflo installation videos: http://www.youtube.com/playlist?list=PLBF3DED87240F8DE3