When my brother graduated college, my husband, Miss O, Miss S (then a 4-year old and infant, respectively) and I went to Connecticut for his graduation ceremony. My parents got us a suite at the Marriott Residence Inn. This was the first time we ever stayed at a Marriott Residence Inn and we were BLOWN. AWAY. It was a huge, 2-bedroom suite with a full-kitchen, dining table and a gas fire-place. Plus, there was a free hot breakfast every morning. We just couldn't believe how much we got for what my parents paid.
Fast Forward 7 years later and we are still huge fans of the Marriott Residence Inn and try to stay at their properties when we travel.
In October, we took a family weekend trip to Philadelphia and stayed at the Residence Inn Philadelphia Center City.  As a family with elementary school aged girls, having a larger hotel room, plus family-friendly amenities is a must.  Below, check out my video and photos on why we love staying at Residence Inn Philadelphia:
We stayed in a one-bedroom suite overlooking City Hall and with a view of the William Penn's statue.
The living room was base camp for lounging, coloring, playing and watching T.V.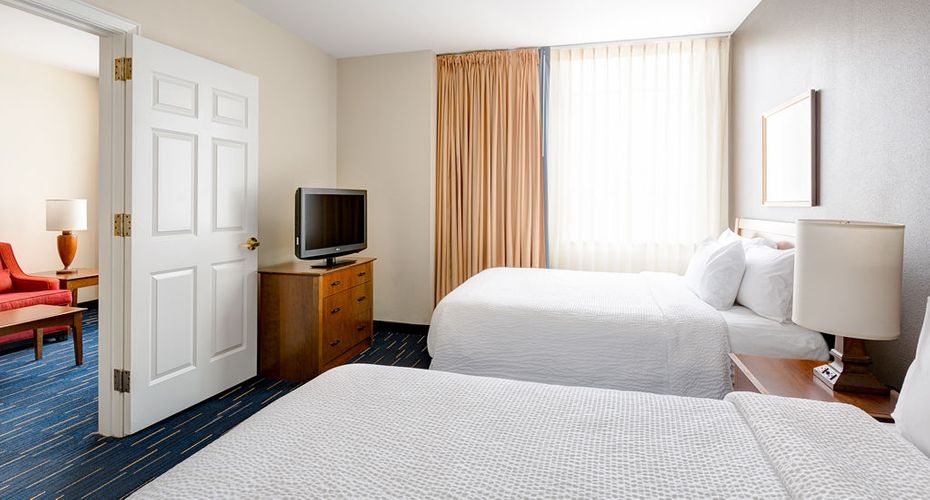 This is our amazing view of downtown. We got to see both sides of historic and modern Philadelphia.
Another thing that Residence Inn Philadelphia provides is the free hot buffet breakfast. Yes, you heard me right, FREE. HOT. BREAKFAST. Traveling with kids and not knowing where your first meal is going to be is nerve-wracking. You already know how important breakfast is, and when you're traveling it's best to have tummy's full to keep tantrums down. At Residence Inn, everything is taken care of. With DIY waffles (super yummy and fluffy), oatmeal, eggs, sausages, fruit, bagels, cereals, milk, juice and coffee, everyone is happy and satisfied.
Another reason why we love staying at a Residence Inn is that there is a full-kitchen. Yup, full-size kitchen with a refrigerator, which is a necessity for families; a sink, dishwasher, microwave and it is stocked with dishes, utensils, paper towels and even dishsoap!  It truly is so easy traveling with kids when you are staying at a Residence Inn!
One night, after a long day of sight-seeing and walking around, we decided to take an early night in, pop pop-corn in the microwave and watch that "Too Cute" kitten show on Animal Planet. Above, the girls are (somewhat) patiently waiting for their popcorn. Cute, right?? You definitely can't do that in a normal hotel room!
Every night, we got to say "Good Night" to this amazing view. We can't wait to go back. Two days was not enough to see every sight. And you can bet that we'll be back at the Residence Inn Philadelphia!
Have you ever stayed in a Residence Inn? What do you like about staying there?