Because my girls are older I sometimes wish that all these baby, infant and toddler products and services were available nine years ago when I had no time to do any research, but needed lots of help. I mean, let's get real. Eight years ago Facebook, Twitter and Instagram weren't even invented! Now, new moms have the world at their fingertips – literally. By pushing a button on their iPhone, laptop, or home computer – everything is delivered to them almost instantaneously.
Founded by a mom, Akemi Williams, TeetheMe.com is a subscription service for new moms in which an adorable box of four to five products are sent monthly to your door. TeetheMe takes the guesswork out of weeding through all the crazy amount of baby / toddler products on the market and will only send you the most innovative, practical and unique products available. The items in each box are hand-picked by savvy moms and are based upon your child's age. So don't worry, your 2-year old won't be sent the latest swaddle blanket.
For my review, I received the newborn TeetheMe Box which contained four products and two coupons:
Le Bibble Bottle Bib – this scrunchie-looking "bib" wraps  around your baby's bottle which provides an instant baby dribble bib right at your finger tips so you don't have to put your baby's bottle down to wipe her chin.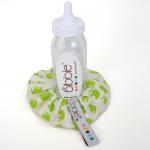 The L'oved Baby Bib: This line of baby clothes are safety-tested for your baby and are CPSIA certified and is made of super-soft, comfortable 100% cotton.
Greenleaf Sachets: The Greenleaf Envelope Fragrance Sachet's can keep any room – or diaper bag – smelling lovely. They recommend to put a sachet in a diaper disposal bin, beneath your child's car seat, or in your stroller, tucked in pocket storage.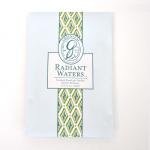 Lulaclips™: Lulaclips are genius. These clips hold the car seat harness out-of-the-way when putting your child in. They are like an extra set of hands when you need them the most.
In the box, I also received coupons with promo codes for SeatPak and Sage Spoonfuls, so you can engage with other new brands at a discounted price.
What does it cost? A Teetheme Subscription costs $24.00 for one month; a six month program is $120.00 – with 1 month free; and a one-year subscription is $240.00 – with 2 months free.
Some things to note: You don't get to pick what goes in your box, but again, it is "customized" for your child's age. Products featured are good for newborns through three-year olds and shipping is included. For more information, click on Teetheme.com's FAQ's.
Now…all I need is a monthly subscription service for Tweens that can give me an iPod Touch for $24.00 for the month  {Yes, that is what O is asking for her ninth birthday. *Sigh*}
xo,
Triple Threat Mommy