After a super-fun overnight stay and safari tour at Nomad Ridge at The Wilds in Cumberland, Ohio, we drove a half-hour west to Zanesville, Ohio for some sight-seeing and lots of eating in this city of over 25,000 people. Early in the century, it was once known as the "Clay City" and the "Pottery Capital of the World".
I had told you that we'd be eating our way through Ohio, and we did. With little less than 10 waking hours in Zanesville, Ohio, we found ourselves eating in four (4!) places, and walking off our calories visiting three spots. Here's our 7 things to do in Zanesville, Ohio:
Where to Eat in Zanesville, Ohio
#1: After our safari at The Wilds, we had a late lunch at Muddy Misers River Cafe. Make sure to it outside on the patio overlooking the Muskingum River with a view of the Y bridge (top photograph). Muddy Misers has a great home-town atmosphere with great service. To start, we had the Iceberg Wedge was different take on the wedge salad — it had an egg salad dressing — which sounds strange, but if you are an egg salad lover like me, you'll devour it. We had the Walleye Reuben (Walleye is a local fish) served with cole slaw, cheese and Thousand Island Dressing; we also had the Pulled Pork Po' Boy that was served with cole slaw, pickles and onions. Both sandwiches are served with steak fries. (FYI: both sandwiches were completely housed.)
#2: We made sure we had room for dessert, so we headed over for a bowl of the creamiest ice cream at Tom's Ice Cream Bowl. First of all, when you step in to the restaurant, you are taken back to the 1950's with yellow formica table tops, servers wearing paper hats and bow-ties. The ice cream is spectacular. I wish I had made more room in my stomach for it! I had two scoops of coffee ice cream and mint chocolate chip and they were so rich and creamy it was definitely tough for me to finish it.
#3: Before dinner, we had a local brew at Weasel Boy Brewing Company, which happens to be right next door to Muddy Misers (but we couldn't go after lunch since it didn't open until 4pm). Weasel Boy is a very cool place and it actually felt like we were at a cool local brewery in Brooklyn (it had that Brooklyn / Williamsburg vibe going), without the Brooklyn prices. Lots of cool seating on flea-market find couches and chairs. They have six beers on tap all year long, as well as a seasonal selection. To go with the beers, they have house-made pizzas and salads (we didn't try them
#4: After a big break in our Holiday Inn Express Suites (we had to let our food settle!), we headed downtown Zanesville for dinner at the Old Market House Inn. The decor is very old world. (We had just come back from Disney World, and I have to be honest, the decor reminded me of Akershus Royal Banquet Hall where you had dinner with the Princesses.) The service was phenomenal; our waitress was attentive and really nice. The bread served was delicious (their breads and pastries are baked fresh daily at Giacomo's). Although Old Market House Inn is known for its steaks and seafood, we decided to check out their pasta which we learned is made in-house, and they didn't disappoint!
Things to Do in Zanesville, Ohio
The art world hasn't left Zanesville, Ohio and it is pretty apparent throughout the city with extremely large vases dotting the city. As we were driving, we came upon a street that had larger-than-life statues all over the sidewalk: horses, sheep, dogs, generals and army men — that we had to stop.
#5: We found ourselves at the Alan Cottrill Sculpture Studio and Gallery. Alan himself will greet you as you walk into his 17,000 square foot facility in downtown Zanesville. We bonded over New York City — he went to art school in NYC as I drooled over his light-filled multi-floor studio and gallery. As he and the artists who work for him was walking us through the sculpting process (26 steps and can take 7 weeks!), all I could think of was how I could make his studio loft into an amazing apartment. I digress. His art is truly amazing and the scale is unreal. He creates sculptures that are two feet high to those that are monumental. Literally. Alan's work can be found everywhere in Zanesville, Ohio — and around the United States.
#6: Check out the Masonic Temple and visit the art galleries on the upper floors. The building itself is a piece of art and is listed in the National Historic Register; it has a beautiful wood and marble staircase, and the mosaic tile floors are original. Unfortunately, our stomachs got the better part of us and we went for Tom's Ice Cream before visiting the Masonic Temple, not knowing that the art galleries close at 5pm!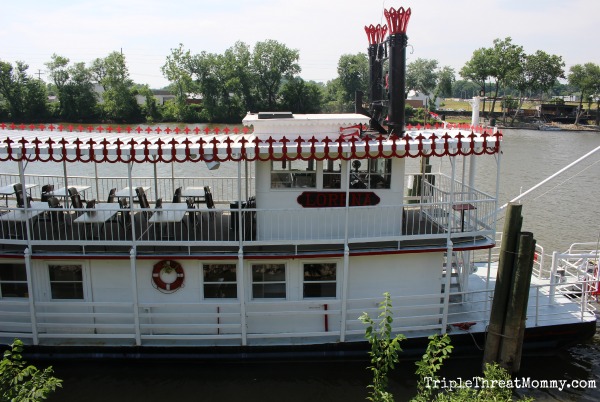 #7: Take a ride on the Lorena Sternwheeler, the old-fashioned riverboat on the Muskingum River. Depending on when you go, you can have lunch or dinner on the Lorena Sternwheeler, but make sure you check out its website for public dining times. (Also, what's great, is that each rider usually gets a coupon for a local attraction or shopping destination in Zanesville, Ohio.)
Visiting Zanesville was a fun (and filling!) ending to our tour of Ohio. If you ever make your way to the middle of the country, I highly suggest visiting Zanesville and The Wilds.