Now that we've Spring Forward-ed our clocks and warm weather is on our minds (hurray!), that also means that bathing suit season is around the corner, too (womp, womp). I don't know about you, but my two pregnancies have left me with some not-so-pretty stretch marks on my tummy and my upper thighs (put it this way:  I gained over 50 pounds with my first pregnancy and 30 pounds with my second) which makes bathing suit shopping kind of a nightmare.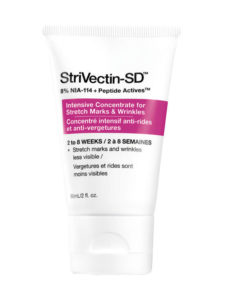 As you know, I've become a big fan of the StriVectin line of skin care products. I've written about their products here, here and here. I love it because their focus is on anti-aging science and skin care. And anti-aging is where my skin care focus is now, too.
Their StriVectin-SD Intensive Concentrate for Stretch Marks & Wrinkles  is a clinically proven wrinkle and stretch mark fighter is now powered up with NIA-114 (niacin) which is rooted in over 30 years of skin cancer prevention research. Only NIA-114 helps to activate cell turnover, repair DNA damage and strengthen the skin barrier for younger looking skin.
So, what I'm doing is for the next eight weeks, use StriVectin-SD twice a day on my stretch marks on my belly and upper thighs and will report back to you in the beginning of May — just in time for bathing suit buying season (egads)! Note that I will show you before and after pics of my upper thighs but NO WAY am I showing anyone my belly!
You may not know this, but StriVectin-SD Intensive Concentrate is available in many stores but it's also available at Costco. So while you're getting your diapers, formula and wipes,  don't forget to pick it up — and in eight weeks, you'll be glad you did!