It's the most wonderful time of the year!! You know what I'm talking about: it's back-to-school time! Although we love the lazy days of summer, I am looking forward to this time for the consistency and predictability that the school year comes with. And what better way to celebrate with a stylish back to school party with Minted! 
Minted is the world's premier market place for independent design. They find amazing artists and designers from all over the world and crowd-sources design and art from them. Then, Minted sells the best designs as stationary, wall art and home decor. Finally, Minted produces and sells the designer's artwork paying the designer a commission on every sale.
Since our tween is heading off to a new school, I thought gathering her friends who will be going with her would be a great way to start of the school year. Plus, it was a good excuse for the parents to get together to discuss the pick-up and drop-off situation. It's different here in NYC, we don't use cars to take our kids to school. The big topic of discussion is "when will the kids be able to take the subways by themselves?". I'm not ready for that yet, so we're going to be doing our version of car-pooling:  we'll take turns taking kids on the subway together to school.
For our stylish back to school party, I chose the
Fun with Color Party Theme
, for it's bright colors and sophisticated design (read: not childish for my tween). The party decor package came with 12 party items that made our rooftop deck have a cohesive theme —and because party planning and decor is not my strong-suit by any means — Minted's matching party decor  
made me look like I'm the hostess with the mostest.
Table confetti dressed up the table with fun, colorful colors, that even matched the food.
A personalized bunting banner, that hung by the tables, gave a shout-out to the school name hung by the tables.
While personalized table signs directed the guests to where the sips, eats and sweets were.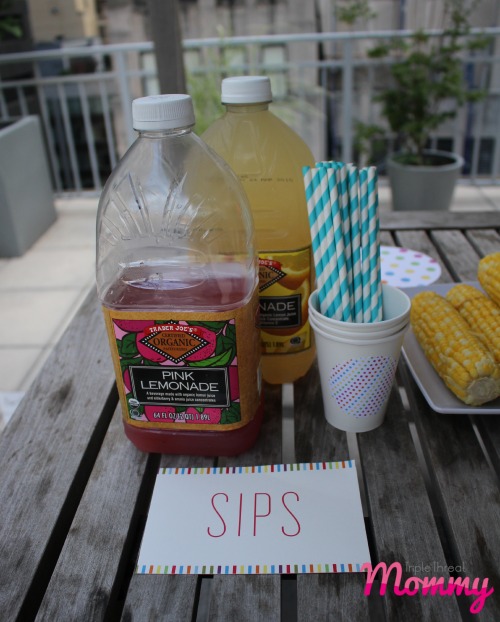 The hubby manned the grill on NYC's first sweltering, humid summer night (thank you!).
After filling up on burgers, hot dogs, corn and veggies, a few minutes of party crown making (that also comes in the party package!) and games before the piece de resistance:  S'MORES, NYC style.
Just because we don't have a campfire doesn't mean that our city kids can't partake in this summer ritual. We just use our electric grill, instead! Still is delicious no matter how you cook it up.
And of course, one last shot of sugar before the school year starts with sea salt brownies and alphabet cookies.
Hooray for the start of school! (Except for making those school lunches…)
Now it's your turn! Enter for a chance to win a $50 Minted Giftcard!
Click to shop the Fun with Color party package, and to explore more of Minted's designs and stationary.