Audrey McClelland, Vera Sweeney and Nicole Feliciano invited me to attend a Fall 2014 CAbi Fashion Show. I've heard and read about CAbi but never went to a show before. First of all, what a pleasant surprise I had when I saw a familiar face from my corporate marketing days. The creative director of CAbi, Daniele Trussardi, and I worked with several years ago when he and I were both on the same creative team: he in creative direction and I in direct marketing. Small world! You can see his genius work below.
Carol Anderson started CAbi, which stands for Carol Anderson by invitation. CAbi is a personal shopping experience that is hosted in a home, like yours, with a CAbi Consultant and all of your friends. It's an intimate gathering of friends and shopping. What could be better? Your CAbi consultant shows the full line to you and your friends, explaining the fabrics, details and how to style all of the silhouettes. Attendees get to follow along with a catalog and circle their favorites.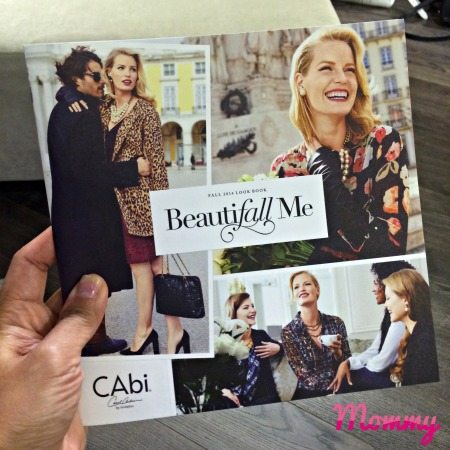 After the "show" you and your friends get to try on the clothes (they're all in a size medium) and your consultant will determine which size would be good for you.
Our NYC CAbi Consultant, Barbara Scott, showed us CAbi's Fall 2014 line and fell in love with the Zipper Pullover, which takes the traditional Irish cable knit sweater up a notch with trend-right diagonal zippers on each side. Also, the Stevie Leggings are just the non-basic, basic that EVERYONE should have in their wardrobe. It has "fleather"-front and knit back and is so easy to style it up, or style it down.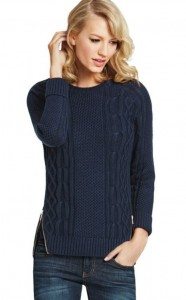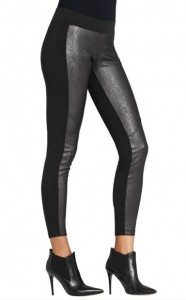 I actually wore them together, because this just goes to show that you can wear navy and black together! I am excited to wear the pieces separately: the sweater with some cool boyfriend jeans and the leggings with a fun date-night top.
If you have a love for fashion and want to connect with friends and want to work out of your home and have flexibility, you can be a CAbi Consultant and spread the fashion love.
Explore the CAbi Collection by visiting their website. And read on if you're interested in being a CAbi consultant . If you live in the NYC area, contact Barbara Scott to host a CAbi event!
I was given a discount for attending the event my outfit. All opinions expressed are mine.