Have you read my post about skiing and the Squaw Kids ski school at Squaw Valley? If you haven't and are looking for a family-friendly ski resort, read it now! If you have already read it, Thank you. Squaw Valley, with over 4,000 skiable terrain is more than just a skiing and boarding mountain. It's an adventure resort with many activities when you're not on the mountain. Below is a list of family-friendly things to do and places to eat while at Squaw Valley — perfect for the whole family!
Thank you to Squaw Valley for providing vouchers for our mini-snowmobiling and snowtubing SnoVentures!
Family Activities at Squaw Valley
Visit the SnoVentures Activity Zone and get them warmed up to the cold with some rock climbing, mini-snowmobiling and snowtubing. In the village, there's skyjumping on the bungy trampoline. In addition, SnoVentures will offer access to dog sledding, horse-drawn sleigh rides, cross-country skiing and snowshoeing for guests of all ages, in partnership with the Resort at Squaw Creek.
Who wants to do some arts & crafts? For indoor activities, visit Everything Hunky Dory in the village for some DIY crafts when you're not in the mood to ski. It's wonderful for both boys & girls. You can also spend some time with the owner's amazing chocolate lab, Titan, who we completely fell in love with!
Check out the Aerial Tram ride for the sweeping views, eating at The Terrace, and family ice skating. Starting in March, the huge heated pool is open, too! 
Places to Eat & Drink at Squaw Valley
Squaw Valley village is completely self-contained and we hardly ventured out of the resort to eat when we were skiing. The days were easy: breakfast was at home, for lunch, our girls ate with their ski school. Which meant that The Hubby and I were able to have a daily "Date Lunch" in the village. Once the girls got out of ski school (and were crazy hungry), it was time for an early dinner for all of us.
All restaurants in Squaw Valley village had kids menus and was seriously cheaper than eating in town. (Our bill was 50% cheaper than eating in the two restaurants we ate in town; we learned quickly. We just stayed in the village for dinner!). Below is the list of restaurants we ate at during the three days we visited Squaw Valley:

Date Lunches in the sunny weather was a fun treat for me and The Hubby. It was extremely hard to get the skis back on after a lazy lunch break. 
The Terrace at High Camp: Sweeping views of the whole mountain. You have to take the Aerial Tram ($39 if you don't have a lift ticket) up to this, but its worth it for the incredible views!
Fireside Pizza Company: If your kids love pizza and pasta like ours, check out Fireside for some handmade personal pizzas (margherita to hawaiian). We loved sitting at their outdoor terrace located centrally in the village
Fireside at Squaw Valley Village for some pasta & home made personal pizzas. 
Twenty-Two Bistro & Bar: This is right in front of the Gold Coast Funitel and has a spectacular view of the mountain, a sunny terrace. You also have to try their awesome sweet potato fries and fish tacos.
KT Base Bar: Big sunny terrace literally at the base of the mountain with great beers on tap. We met friends here for a quick drink before ski-school pick up.
Euro Crepe & Euro Snacks: These little carts were our girls' favorite. They had savory & sweet (read: Nutella) crepes that were a good dessert option, or snack after skiing.
For a quick bite, the girls would get sweet & savory crepes and sit fireside.
Rocker @ Squaw: Hands down, this was our favorite, for both me and The Hubby, and for the kids. Try their delicious black bean burger, veggie slaw, IPA's and vidalia onion rings. Make sure to get a seat out on the deck for a stellar view of the mountain and an amazing sunset.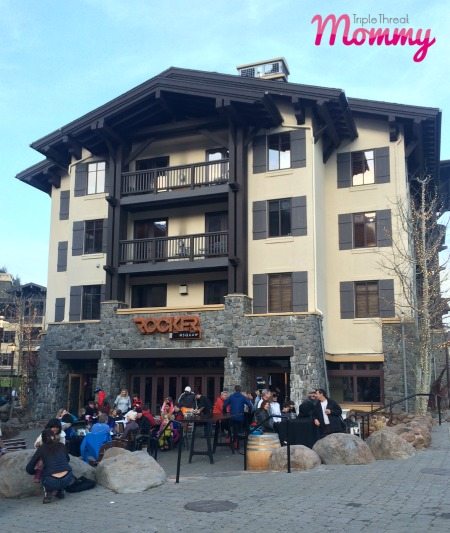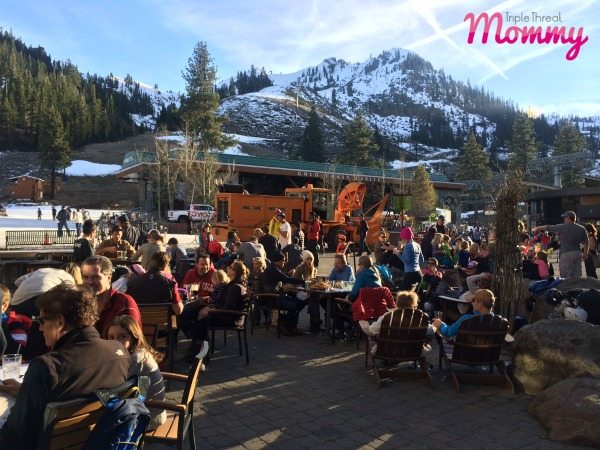 Our favorite spot was the patio at Rocker@Squaw. It had the best sun, views, beers & black bean burgers (yum!)
About Squaw Valley
Squaw Valley was founded in 1949 and hosted the 1960 Olympic Winter Games, the first televised Olympics. Squaw Valley is one of the largest and most diverse mountain resorts in North America, with incomparable outdoor recreational amenities that attract both local residents and visitors from around the globe. For more information, please visit http://squawalpine.com/.  And, click here for the Squaw Valley Events calendar.