Jenny Craig Brand Ambassador Valerie Bertinelli kicked off the American Heart Association's Wall Street Run & Heart Walk on behalf of "Team Jenny," in New York City last week on May 31st. I am proud to have been a part of "Team Jenny" as I made a pact with myself that June 1st was going to be the start of a healthier, more active me — and what a great way to kick it off with the Run & Heart Walk.
The Heart Walk is the American Heart Association's premiere event that brings communities together to raise money and celebrate progress in the fight against this country's No. 1 and No. 4 killers: heart diseases and stroke.  Jenny Craig is a proud National Sponsor of the American Heart Association's Heart Walk and is supporting more than 350 walks across the United States in 2012.
Valerie, who looked amazing, lost 40 pounds on Jenny Craig and Valerie's mom Nancy lost 54 pounds. In her kick-off speech, Valerie said, "I'm honored to be here today, and am thrilled to be kicking off the New York City Heart Walk with Jenny Craig," said Bertinelli.  "Losing weight isn't just about getting into your favorite clothes, it's about being healthy and lowering your risk for weight-related diseases, so you can live a longer and happier life for yourself and for your family," said Bertinelli.
In support of the American Heart Association's healthy-living initiative My Heart. My Life™, Jenny Craig launched My Heart. My Life.™ My Jenny, which focuses on educating people that if you eat better, move more, you will live a healthier life — and all it takes is just 30 minutes of activity everyday.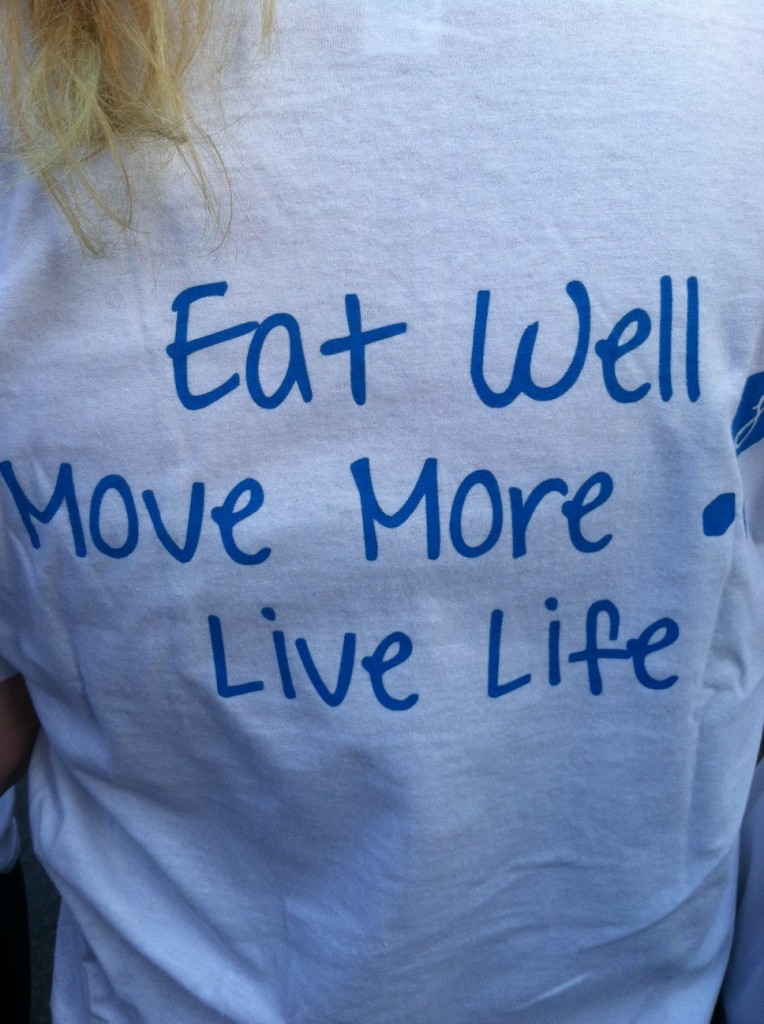 It took me over an hour to walk the 5K, but as part of my pact to live a healthier and more active life, I have signed up to run BlogHer's 5K. I am not a runner, I don't work out on a regular basis, and the portion sizes I eat are bigger than the recommended daily allowance.  So what do I do??
As I approach my 40s (yipes!) I know I have to get my body in shape for me, my girls, and my husband. I want to be healthier so I can live longer and be with the ones I love for as long as I can, and I can't do that while watching 2 hours of House Hunters while sitting on the couch. Instead, I will still  watch House Hunters, but only if I am doing my ab crunches, leg lifts and lifting small weights. I've also signed up for exercise classes and will start a running program (more on that in another post) to help me get from walking a 5K to running a 5K. Who wants to join me??
There are over 350 Heart Walk's around the country. So, what are you doing reading this post??? Register for a Heart Walk near you and GET MOVING!