Whether living in or visiting New York City, The Bronx Zoo is the place to visit especially if you have a family. The Bronx Zoo just opened its recently renovated its Children's Zoo earlier this summer and it definitely is the place to visit.
I am a WCS Ambassador and receive a complimentary family premium membership and exclusive opportunities for my participation. 
The last time I was at the Bronx Zoo was over 30 years ago with my grandmother (my stepfather's mom). I remember that we took a hot New York City bus from Washington Heights all the way to the zoo. Visiting the zoo with her is still is one of my favorite childhood memories.  So it was with those fond thoughts that we brought our own girls to the zoo.
The Children's Zoo was newly renovated and has many interactive features like a petting zoo, a climbing spider web, peek-a-boo prairie dog tunnels (that I still remember doing as a 7 year old!), climb-in turtle shells and and birds nests that kids of all ages will love.
The illustrations around the zoo with large story-telling copy helps even the youngest readers understand what and who they are looking at in easy to understand language.
Because we went as soon as the zoo opened (10:00 a.m.) and it was a drizzly day, the zoo was practically empty and the animals were out eating their breakfast, preening and getting their morning exercise. There were so many beautiful animals in their habitats like the African Lion, Nubian Ibex and the Gelada Baboon.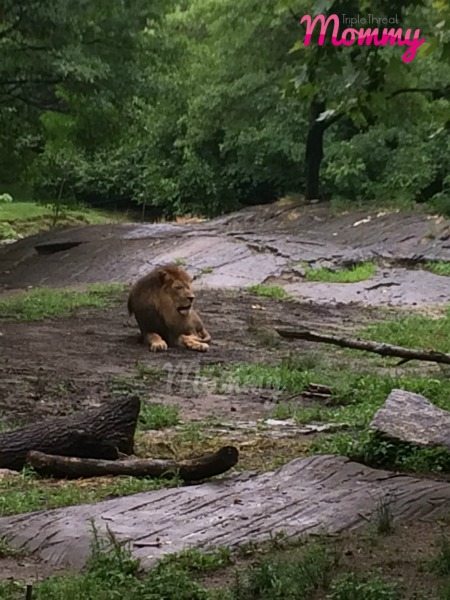 Telescopes helped us see the Geleda Baboons and what makes them different from all other baboons. (It's a big list!)
We even got to see the the baby sea lion that was nursing. HOW CUTE IS THAT?! Right after the baby was fed, we watched  the sea lion feeding and all their tricks. (p.s. You can watch my Periscope video of the sea lion feeding — just search for "Pam Kirkbride".)
With large family attractions, there's always a few rules we like to follow just so that we can have a more enjoyable time. Here are our…
5 Tips for Visiting The Bronx Zoo
Go early. Visit TheBronx Zoo as soon as it opens. The early bird gets the worm, or at the very least, the least amount of crowds.
Even if it is a cloudy, drizzly day, GO! The crowds will be minimal and your kids won't be whining about how hot they are.
Eat at "off" times. The outdoor and indoor cafeterias fill up at 12:30pm, so go at 11:45am or 12noon. You'll beat the lines and you'll be able to get a table
Give your kids a budget. There are many gift shops and stalls scattered throughout the zoo. Your kids will inevitably want a stuffed animal, key chain, or sweatshirt. Give them a set dollar amount, or if they are old enough, actual cash, so that they can manage what they are spending
On your mobile phone, check out the Bronx Zoo's Daily Schedule. This page will give you the key highlights for the day like sea lion feeding and penguin feeding times.
Click here for more information about the Bronx Zoo's new Children's Zoo .