We all know that New York City is the ultimate concrete jungle, but who knew that there were actually wild animals in the midst? If you look hard enough, you'll see what I'm talking about — and if you take pictures of these "wild animals", you can enter to win some major prizes!
To celebrate the 120th anniversary of the Wildlife Conservation Society (WCS), a city-wide campaign called #NYisWild is turning the New York City concrete jungle into a summer-long photo safari where New Yorkers can participate by choosing from 120 "wild" attractions around the city and capturing a photo of each of them for a chance to win irresistible prizes.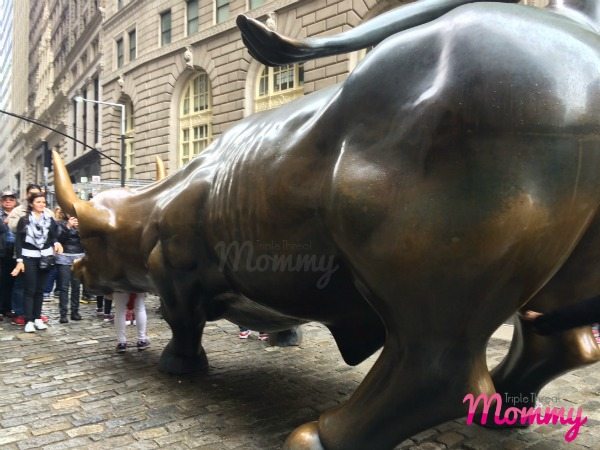 The Bull of Wall Street charging tourists in downtown Manhattan is one of the "wild" attractions in Lower Manhattan.
Taking pictures of and collecting all 120 "wild" attractions can enter you for a chance to win a grand prize trip for two to Belize (!!!), but you can also unlock rewards along the way for hitting milestones like a premium family membership to all five parks, whale watching tour for four people, and much much more.
Here's what you need to do to participate in #NYisWild*
Go to NYisWild.com and sign up using your Instagram or Twitter account.
Download the full list of all 120 attractions and have fun exploring New York City's concrete jungle! The list of attractions (with #) to choose from can be downloaded here: http://bit.ly/NYisWildOnePager.
As you go through your concrete jungle safari, snap pictures of the attractions and upload to your Instagram and/or Twitter account using the #NYisWild hashtag and the number of the clue (found in the download). For example: #NYisWild, #84.
Keep track of your progress on www.NYisWild.com by logging in through your Instagram and/or Twitter accounts.
You have 120 days (April – August) to capture each attraction via your Instagram or Twitter account.
The more you upload, the more chances you have to win the amazing prizes!
*Click here for the official rules. 
Patience, and her partner, Fortitude, protects the NY Public Libraries books (and was featured in the Ghostbusters movie) in mid-town Manhattan.
Your Exclusive Discount for all WCS Parks
To make it even better for you to check out all the wild attractions, the WCS has an exclusive discount of 20% off all tickets purchased only through NYisWild.com. Discount is automatically applied when you purchase tickets through the website. The discount is good to be used for all of the Wildlife Conservation Society's parks: Bronx Zoo, New York Aquarium, Central Park Zoo, Prospect Park Zoo, and Queens Zoo. Be sure to check it out and have fun taking part in all of the #NYisWild activities!