As I wrote in December, we went to Arizona for the winter holidays.  The first half was spent with family in southern Arizona in 75+ degree weather.
For the second half of the holidays, we headed north to Flagstaff, Arizona, for winter activities (including SKIING — YES! There IS skiing in Arizona – but that's going to be another post.) We chose Flagstaff, locally known as "Flag", for its proximity to the Grand Canyon, a place that every American family should visit at least once. After doing research, we realized that there outdoor outdoor winter activities that we could do on top of visiting the Grand Canyon.
If you were not able to follow me and my family when we were in Flagstaff under the #TTMdoesFlagstaff hashtag, below is our family travel itinerary for Flagstaff, Arizona that you could follow for your four- to five-day trip.
Day 1: Historic District of Flagstaff and Dinner on Route 66: We arrived in Flagstaff in the late afternoon, and after checking in to the SpringHill Suites hotel, we walked around the quaint historic district. Flagstaff is a college town and there are many small shops and restaurants in the historic downtown area. There are cute restaurants and of course many shops that cater to outdoor activities along Aspen Avenue.
Day 2: The Grand Canyon and The Lowell Observatory: Our hotel has a free hot and cold breakfast buffet, which is great for families. After breakfast, we started our road trip to the South Rim of The Grand Canyon. On Route 40, it takes 1 1/2 to 2 hours from Flagstaff. You should allot the day for this trip. Before heading into the park, make sure to stop at the National Geographic Visitor Center of The Grand Canyon to pre-purchase your vehicle ticket ($25 for the day), get a map of the park, and speak to a Park Ranger to discuss which stops to hit.
The Park Ranger told us to go to Verkamp's Visitor Center; The Yavapai Point & the Geology Museum; and the Grand Canyon Visitor Center. Each stop has trails that you can walk along and take pictures of the amazing scenery. The Geology Museum is small but informative with interactive displays about how The Grand Canyon was formed. The real draw, of course, is the view outside, so we didn't spend too much time at the museum. I'm not sure if the girls understood the awesome-ness of the Grand Canyon, but being there was one of the more memorable trips we've had as a family. Tip: Each viewing point is not more than 10-15 minutes away from each other and each one has large clean restrooms. The place to eat is the Maswik Lodge Cafeteria which has many hot and cold food options for everyone in the family and is pretty inexpensive.
Lowell Observatory:  Because it was a clear (and cold) night, we went to the Observatory so we could look through the very large telescopes and see stars. In the smallest of the telescope, we were able to see Orion's Belt; in the medium-sized Clark telescope, we saw our sister galaxy, Andromeda Galaxy which is 2.5 million light years from earth; unfortunately the largest telescope had a 45-minute line to see Jupiter, so we couldn't wait for that.
Inside, there was a 3-D exhibit about the Mars surface and an interactive science experiment demonstration that used  household items like marshmallows and a microwave; a candle and orange; and a pair of pliers and Wint-O-Green Lifesavers. O was interested, but for our younger one, the experiments seemed over her head. Tip: If you are planning to go at night to look in the telescopes, call ahead of time to make sure they are open! If you go in the winter time, don't leave your coats in the car, they are a must, especially if will be looking out of the telescopes. There are lines to look through each of the telescopes, some longer than the other, so be prepared to wait.
Day 3: Bearizona and Hitchin' Post Stables
Bearizona is 30 minutes outside of Flagstaff in Williams, Arizona on Route 66. This is a SUPER FUN, informative, drive-thru wildlife adventure. You receive a complimentary (with admission) GPS audio tour that you place on your cars dashboard. It tells you facts of each animal as you drive up to their environment. We were within three feet of touching an American Bison, White Bison, and even a Black Bear. The girls were so excited to look for each of the animals, especially the Black Bear which should have been in hibernation. To our delight, the Black Bear was up and awake — and walking right in front of our car!
After the drive-thru, park by Fort Bearizona where you can see bear cubs, Javelinas, a Lynx, Bobcat, Raccoons and more.  Tip:  This attraction is a good morning activity since a lot of the animals are up during that hour. You should also allot two hours for Bearizona, which is the perfect thing to do before lunch.
Hitchin' Post Stables: Under new ownership, this stable has horseback riding and sleigh riding (the sleighs turn into wagons when there isn't any snow.) We took a 4:00 pm sleigh ride through the Coconino National Forest with Luke and Lyle as our trusted horses and Josh our wrangler. The sleigh ride took 45 minutes making a loop through the forest passing old covered wagons from 150 years ago. Afterwards, we warmed up in the big "tent" as our Cowboy Steak Dinner was being cooked up. The dinner was a great way to end the sleigh ride. We were very impressed with the steak and the food that Hitchin' Post Stables served up. And even though O had ordered a hot dog, she ate half of my steak instead! It was that good! Tip: If you're going in the winter, bundle up! We wore our ski pants and ski jackets and we were very comfortable.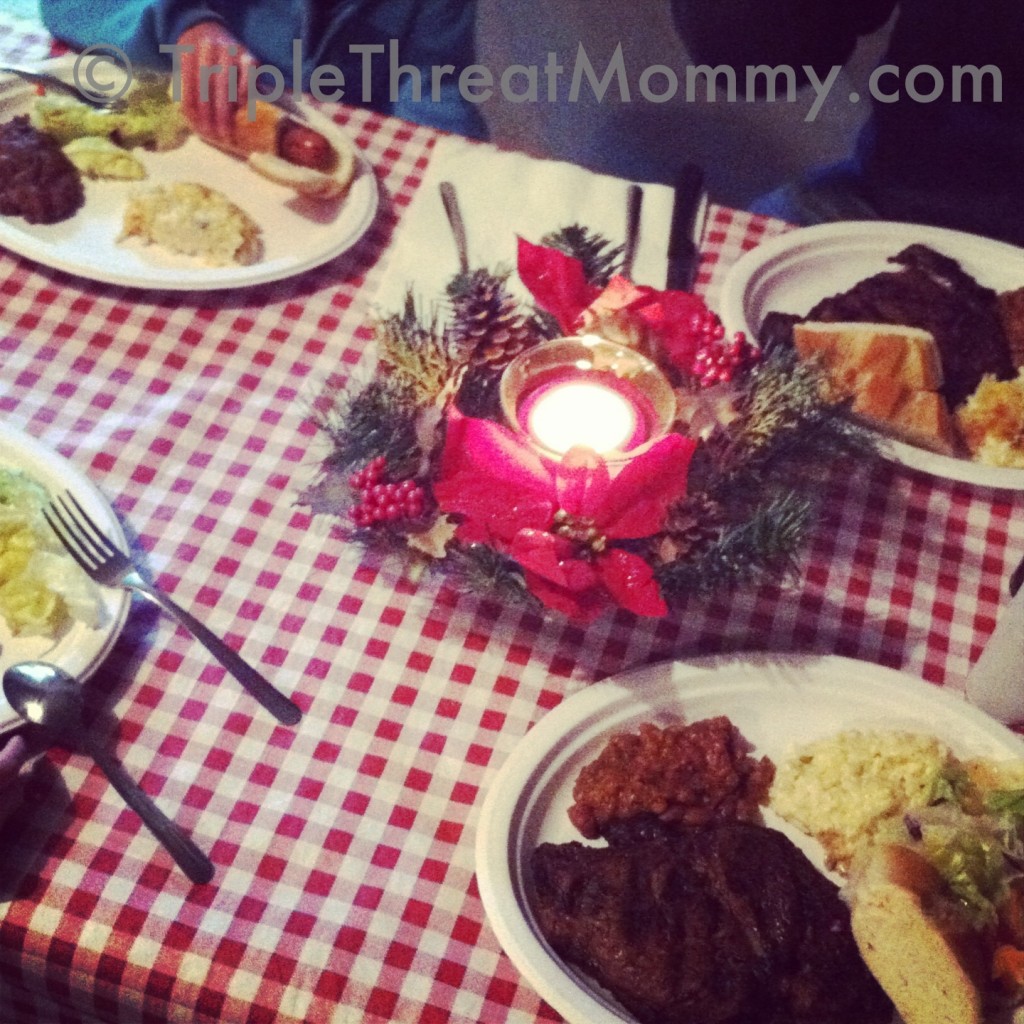 Day 4 and 5: Skiing at Arizona  Snowbowl.  Yes, there is skiing in Arizona! We spent two full days at Flagstaff's Arizona Snowbowl in the Coconino Mountains where there was fresh powder both days. Look out for a full blog post with video in the next week showing what we thought about skiing in The Grand Canyon State.
What did we eat? We thought that the food in Flagstaff was so phenomenal that it warrants its own blog post, so look out for that foodie post in the next week, too!