We just got a pantry put into our kitchen, which means I now have the room to buy lots and lots of snacks for the family. Like many parents, I try to have on-hand healthy snacks and fruits in the apartment, because if your kids are like my kids, they snack a lot. Did you know that the average American uses up 25% of their calories on snacking? So, if you fill up those calories (and pantry shelves) with something healthy instead of junk, just maybe you can make some great changes to your family's diet.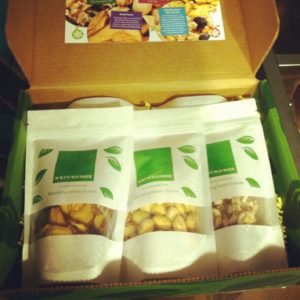 That's where NatureBox comes in. NatureBox is a subscription service that allows you to discover and enjoy healthy snacks on a monthly basis. All of their products are nutritionist-approved, made from wholesome ingredients and stick to their strict quality standards: No high-fructose corn syrup, no partially hydrogenated oils, no trans fats, no artificial sweeteners, no artificial flavors, no artificial colors.
In the box, you receive five healthy snacks. The box I received had Dried Pears, Lemon Pucker Pistachios, Pistachio Power Clusters, Masa Crisps and Wild Blueberry Flax Granola.
I loved the recyclable packaging and that each snack comes in its own resealable bag — perfect for on-the-go healthy snacking. Initially, all the snacks in the box were supposed to come with us on our family trip to Flagstaff. Because they came in their own convenient bag, it's handy to bring on the airplane and on our road trip. But the snacks never made it. Because I ate them all. ALL.
My absolute faves were the granola, which I ate plain, on top of Greek Yogurt, or in milk. I also loved the dried pears and the Masa Crisps (so addicting!!).
What else should you know about NatureBox?
Each box is $19.95 with free shipping. You can pause your subscription any time and can get a 100% refund if you aren't satisfied.
Not only do they have good food, but they do good: For every NatureBox sent out, they donate one meal to help feed the over 14 million children in America who go hungry every year.
So, what's next? they are working on new NatureBoxes which will address various dietary and personal needs like Gluten-Free, Nut-Free, Vegan and Low Sugar. NatureBox will also be available in various sizes depending on the size of your family.
Want to try it? Here's a NatureBox Coupon Code for $5.00 OFF:
Enter PISTACHIO in the "Discount Code" box upon check-out to receive $5.00 off (25%) your first month's subscription!
Click here to learn more about NatureBox; and click here to sign up for a monthly NatureBox subscription