I can't believe how fast a year goes. In a few more weeks, I will be celebrating my one year anniversary of the elimination of my fashion marketing job. I say that this is a celebration because I was given a gift:  the gift of time. I was able to use my severance and career coaching services to really figure out what I wanted from my career. The important word here is "wanted" — not "needed".
The career coaches made me focus on honing in on what I wanted in my next career phase. I had to dig deep and understand what type of career and environment I wanted to work in. They made us take a lot of webinars, classes and online tests. A bit tedious, but I was able to put down on paper what I wanted when I got out of this transitional phase. From the testing, came my top five values:
#1: Lifestyle Integration and Life Balance
#2: Alignment with Organizational Values
#3: Functional Expertise
#4: Freedom  and Independence
#5: Accomplishment and Achievement
After three months off doing a lot of job-soul searching, I landed a contract position at a social media agency, which allowed me to sharpen my social media experience (#3)  but didn't really support the lifestyle balance (#1).  When that contract ended and I simultaneously finished graduate school, I needed to focus on finding a job. As Michael said, "You're full-time job is to find a job." 
Michael and I talked about what I was to do next. I was a bit disillusioned with the corporate fashion world and I wasn't sure if I wanted to go back to that environment. I wanted to do something different – something that I truly believed in AND I wanted to have more balance in my life and to see the girls more. Am I asking for too much?
Mommy blogging and practicing social media opened up my eyes to the possibilities on having a flexible working schedule. There were a ton of brands who wanted to work with moms because we were moms  and we had this invaluable skill of connecting with people. On a whim, I asked my two old co-workers who started a business to see if they wanted my social media expertise, and to my delight, they said yes and I became the part-time Community Director for the amazing fashion brand, LABEL+thread. A few weeks later, I got an email from another friend who forwarded an open position with a company called Kidfresh, a line of 100% natural frozen kids meals. They were looking for a digital-savvy mom who believes in healthier food and who can be their social media expert — part-time.
I thought, "Hey!! That's me!! I want this job!!" It has everything that I could possibly want. After a handful of interviews with co-founders Matt Cohen and Gilles Deloux, I am so excited to say that I have accepted the position as Chief Kidfresh Mom. I am so excited to start this new phase of my career — and life.  This position at Kidfresh aligns 100% with the values that had come out of my career coaching. Something that I haven't had for a long time.   
#1: Lifestyle Integration and Life Balance: I work part-time with the hours spread throughout the week. Most of the time I am in Kidfresh's NYC headquarters, and I work from home the rest of the time. This allows me balance in my life: I can take O out for lunch, volunteer at her school's bake sale and pick her up from dance class, while still having my foot in the working world.
#2: Alignment with Organizational Values: Now this is big for me, especially as a mom:  Kidfresh's promise of being 100% natural, having superior nutrition and being green and sustainable directly aligns with the kind of mom I am try to be. I admit it, I serve my children prepared foods — from chicken nuggets to mac and cheese — but what I try to do is make sure that the food I give is naturally good for them, without all the icky stuff.
#3: Functional Expertise: Although I've only been at Kidfresh for a handful of weeks, Matt and Gilles look to me for expertise:  as a mom, as a consumer, as a social media expert. I love that they trust me and look forward to what I can bring to the table.
Me at my Chief Kidfresh Mom Desk  , wearing one of my fave LABEL+thread sweaters, of course!
#4: Freedom and Independence: At the office, Matt and Gilles are trusting supervisors and are not micro-managers. It's a small team, and we have a lot to do and we all trust each other to do it — with their oversight, of course! And because I work part-time for Kidfresh, I am able to continue my work as the Community Director of LABEL+thread (Yay!) and explore other consulting projects.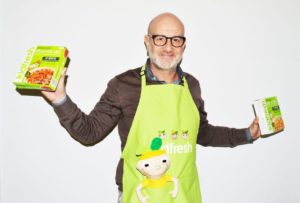 Co-founders of Kidfresh, and Dads themselves, Matt Cohen and Gilles Deloux
#5: Accomplishment and Achievement: With time, I know that my work at Kidfresh will continue to grow and help me grow professionally.
So excited. Can't wait. Thank you for coming along for the ride.
xo
Pam, Triple Threat Mommy
Lao Tzu, a mystic philosopher, said In dwelling, live close to the ground. In thinking, keep to the simple. In conflict, be fair and generous. In governing, don't try to control. In work, do what you enjoy. In family life, be completely present.
The career coaching services I had were with
Right Management
, which I highly suggest for anyone looking into career coaching services. These services were part of my severance package.